Life at Kombat Group Thailand isn't just training, eating and sleeping. When they aren't giving their all in the training ring, our fighters are out exploring the nearby attractions that Pattaya has to offer. These include an 18-meter golden Buddha, the electrifying Max Muay Thai Stadium and famous glitz'n'glamour transvestite cabaret shows. Here are some of the unique things our guests can do during their downtime while training at Kombat Group Thailand.
TOP PICK: Max Muay Thai Stadium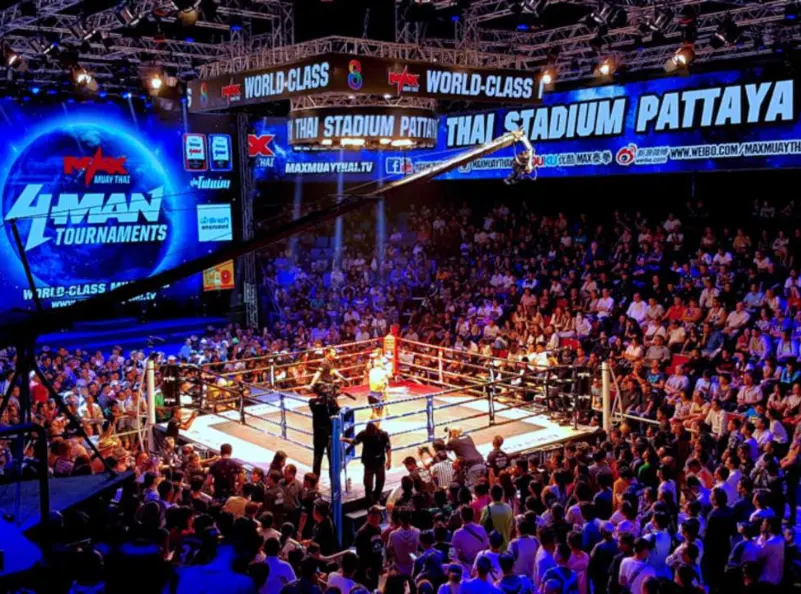 The Max Muay Thai stadium is a key event for our fighters. It's the best place to go to in Pattaya to watch real Muay Thai action and get seriously inspired. Some of our first-time fighters come to Kombat Group to train for their first fight and it's exhilarating going to support them and be a part of their once-in-a-lifetime experience. The fights during the week are usually amateur fighters and Sundays are the best days to go, because that's when the professionals show off their skills and go head-to-head in the ring!
Sea, Sand, Sun and Slides!
There are beaches galore in Pattaya as well as waterparks – two fantastic places to relax at while the water soothes your aching muscles after a tough week of workouts. The best nearby beach we recommend is the Sai Kaew Military Beach, which is only 20km from Kombat Group. From there, you can even take a boat to Ko Larn Island, a small idyllic haven. On weekends, its five beaches entertain thousands of tourists and the aqua-marine sea is busy with local cuisine, banana boats, and other hilarious activities.
If you want to step up the fun and throw some shapes at a waterpark, there are two great ones to choose from Ramayana and Cartoon Network Amazone. Ramayana has 21 water slides, a double wave pool, and a lazy river. Cartoon Network has a terrifying 12-metre free fall slide, surf pool and sometimes holds Wet'n'Wild pool parties!
Another watery attraction only 7km away from Kombat Group, is Underwater World Pattaya. Head to this magical marine spectacle and see over 2,500 colourful fish and underwater animals such as bamboo sharks, starfish, green sea turtles, and sea cucumbers. Highlights of Underwater World Pattaya include the live feeding shows and walking through the 100-meter acrylic tunnel as you watch sharks swimming right above your head (scary stuff!). You can also visit the jellyfish tank where you will catch a glimpse of a Lion's mane jellyfish which body can grow up to several meters and tentacles up to 37 meters long.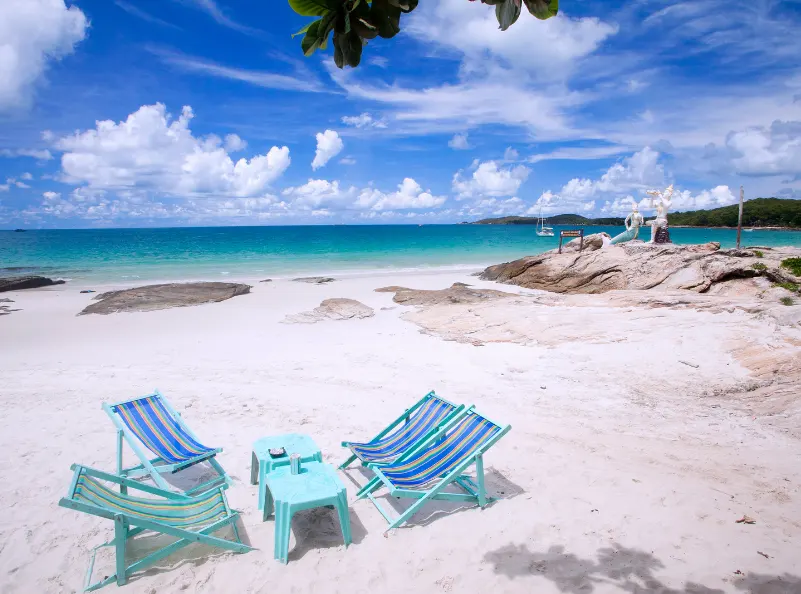 Glitz'n'Glamour Cabaret Shows
If you love extravaganza, dramatics and glitz'n'glamour, a Pattaya-style Cabaret show might just be up your street. These are world-famous performances, not just for talent and artistry, but also for the fact that the performers are all transvestites.
There are three shows near the camp, Tiffany's Cabaret Show, Mimosa Show and the Colosseum Show. All shows combine magnificent dance theatre performances featuring professional and experienced artists combined with the latest entertainment technologies from around the world, including a futuristic light and sound system, hydraulic stage system with superbly designed props and backdrops, and fabulous costumes. It sure is an experience to remember!
Temples, Gardens and Buddhas
Imagine perfectly manicured gardens, colourful pagodas, and murals portraying the story of the epic Chinese novel: The Three Kingdoms. The Three Kingdoms Park is seriously worth a visit during your time at Kombat Group Thailand and can be combined with trips to other incredible attractions in East Pattaya. Nong Nooch Tropical Gardens is also a stunning place to visit and is only 17km away from Kombat Group. As well as boasting one of the biggest tropical gardens in Asia, Nong Nooch also features a Dinosaur Garden, Cactus Garden, and an onsite restaurant and spa.
You can't come to Kombat Group and not pay the Big Buddha Hill a visit. The magnificent golden structure is officially called "Wat Phra Yai" and is as high as a 3-storey building – a whopping 18 meters tall. To climb to the top of the hill is not an easy task as it involves climbing 250 steps but think of it as a cardio workout! It's surrounded by gorgeous Chinese gardens where you can relax after your climb and learn all about Chinese Philosophers of the past. The Big Buddha statue is open to the public from 7 am to 10 pm daily and entrance is free of charge. And if you need some down-time after exploring the Buddha Hill, why not take a trip to the nearby Oasis Spa, where you can indulge in luxurious body scrubs, wraps, facial treatments and hydrotherapy.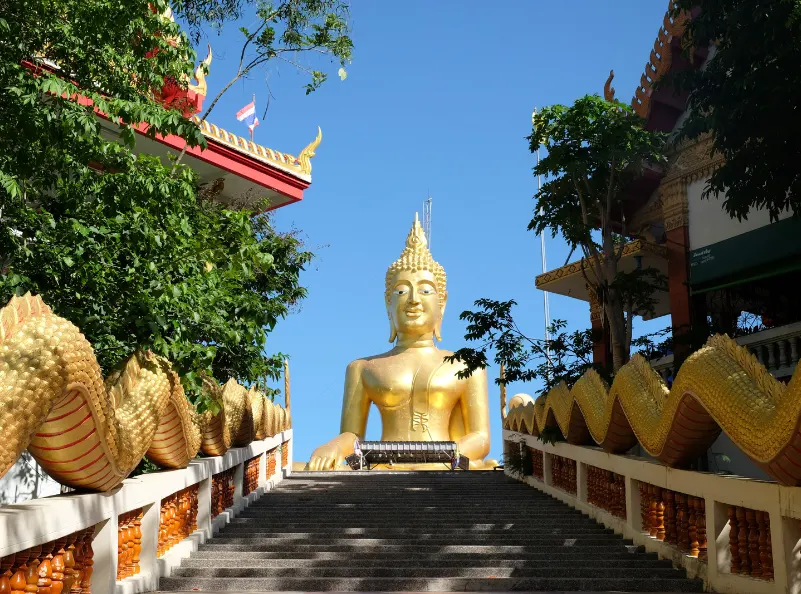 There are many temples in Thailand, but very few that you will see like the Sanctuary of Truth. This temple is made entirely out of wood and represents Thai, Khmer, Chinese and Indian religious iconography. Anyone who has visited this impressive heritage project will tell you that the architecture and setting are like nothing else they have seen. Each section of the towering 105metre-high temple displays hand-carved illustrations of Hindu and Buddhist. And a highlight is watching traditional Thai cultural dancing which takes place at 11.30am and 3.30pm!
To conclude
So, as you can see, there is so much to do in the surrounding area of Kombat Group Thailand.
Fighters can either chill in our tranquil gardens at the camp or opt to see one of the nearby attractions and we love helping people get to where they want to go. If you want to rent a motorbike, get a taxi or just need general directions, our staff is always available to help.
To start your fitness journey at Thailand's only all-inclusive camp that offers professional coaching in Muay Thai, Boxing and much more, contact us with the form below!