The Kombat Group Fitness Program offers you a fantastic combination of Functional Training and various Martial Arts.
One of the special things about Kombat Group is the great variety of our classes. You will be able to give each one a try and choose the ones you like best. If it is too hard for you to choose, you can even do a bit of everything by simply switching it up on a weekly or even daily basis. Our fitness program includes 2 daily training sessions Mo-Fr.
In the morning, you'll have 40 min of Functional Training and 1 hour of either Western Boxing or Brazilian Jiu-Jitsu. In the afternoon another 40 min of Functional training is followed by 2 hours of either Muay Thai or Western Boxing or Krav Maga + MMA. Saturday is 2 hours of martial arts in the afternoon and Sunday is a full rest day.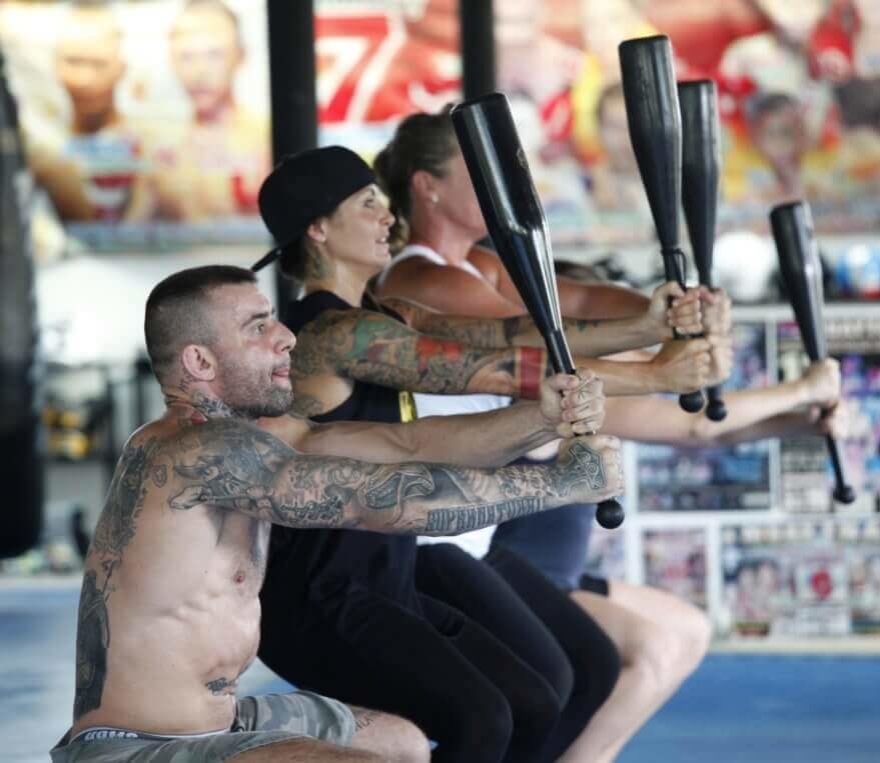 The majority of our guests choose Western Boxing and Muay Thai, as those give you the most complete full body workout. But there are also great fitness benefits if you select Krav Maga, MMA or BJJ as your preferred option. All martial arts are basically a high-aerobic workout. Here at Kombat, we use interval training to get the maximum benefits of a cardio session.
Your stamina, muscle tone, flexibility, balance and strength will all greatly improve through martial arts. Additionally, it is perfect if you want to lose weight, as 1 hour of training can burn up to 500 calories. Our Fitness Program is in equal amounts fun, diverse and challenging. You will look most likely look forward to a good rest at the end of the day, but in case you want to go hardcore and do even more, you can make use of all gym equipment any time you like.
Functional Training consists of a variety of exercises and activities including cardio and strength training to create a highly effective workout. It increases your fitness through bodyweight exercises or the use of different weights and other equipment like ropes or TRX. Each session burns maximum calories and body fat by incorporating the various areas of fitness: cardio, strength, power, speed, endurance, mobility, flexibility and stability.
The course is based on interval training routines with CrossFit-style workouts as well as cardio-based sessions. There is a different workout each day which may include weightlifting, cardiovascular training, aerobics, kettlebells, bodybuilding, or functionality and mobility training. Functional Training sessions may also use team-building fitness games or military-style team goals to create bonds and allow individuals to motivate each other.
In order to change it up and make it even more fun and exciting, some of our classes will take place in our swimming pool or even outside the camp on a morning hike or as part of a nice morning excursion. Our training is suitable for all levels and abilities whether your goal is to lose weight, fight or just improve your overall fitness. Our experienced instructors will adapt the exercises to your current fitness level to ensure you are challenged in every session.