I came to Kombat Group for mental and physical well-being reasons. I wanted to get in shape and learn some self-defence moves in the process. It was my first time with them, and I was nervous initially. I wasn't in good shape, did not exercise regularly at home, and knew that the programme would be intense. I envisioned fighters in the gym and me feeling really out of place. I had no experience with Muay Thai, Brazilian Jiu-Jitsu or Krav Maga.
But to my surprise, from the beginning, they treated me like family. The trainers, the staff, and the other students were like a little community. There was a mix of experienced fighters and newbies like me all here together, and despite the programme being challenging, I was so well supported throughout the process.
The quality of the training was exceptional. The classes were small and sometimes even 1:1 and felt really personal. The trainers are experienced and know how to balance when to push you when you can do more and help care for you in case of any strains or injuries. I've been to other fitness camps, which are lovely, but lack the warmth, sense of community that KOMBAT embodies. I also was really inspired by the teachers who are not just trainers doing a job but embodying what it means to be a warrior. There's no ego here, just amazing fighters who are here to help you achieve your goals. Though weight loss wasn't the primary objective, I was able to lose 7.5cm off my waist and am leaving feeling stronger, healthier physically and mentally.
I took private lessons in BJJ and Muay Thai, and they were really helpful in further progressing my technique. Cristiano was my self-defence instructor for Krav Maga and BJJ, and I feel blessed to have had the opportunity to train with him. He is a world-class instructor, warrior and coach. Cristiano is an inspiring human and helped me to find the warrior in me, even when I couldn't see it. I also took Muay Thai private coaching from instructor Big. He is a really experienced fighter and made Muay Thai fun and inclusive. Big challenged me physically but was always really engaged, caring, and a great coach.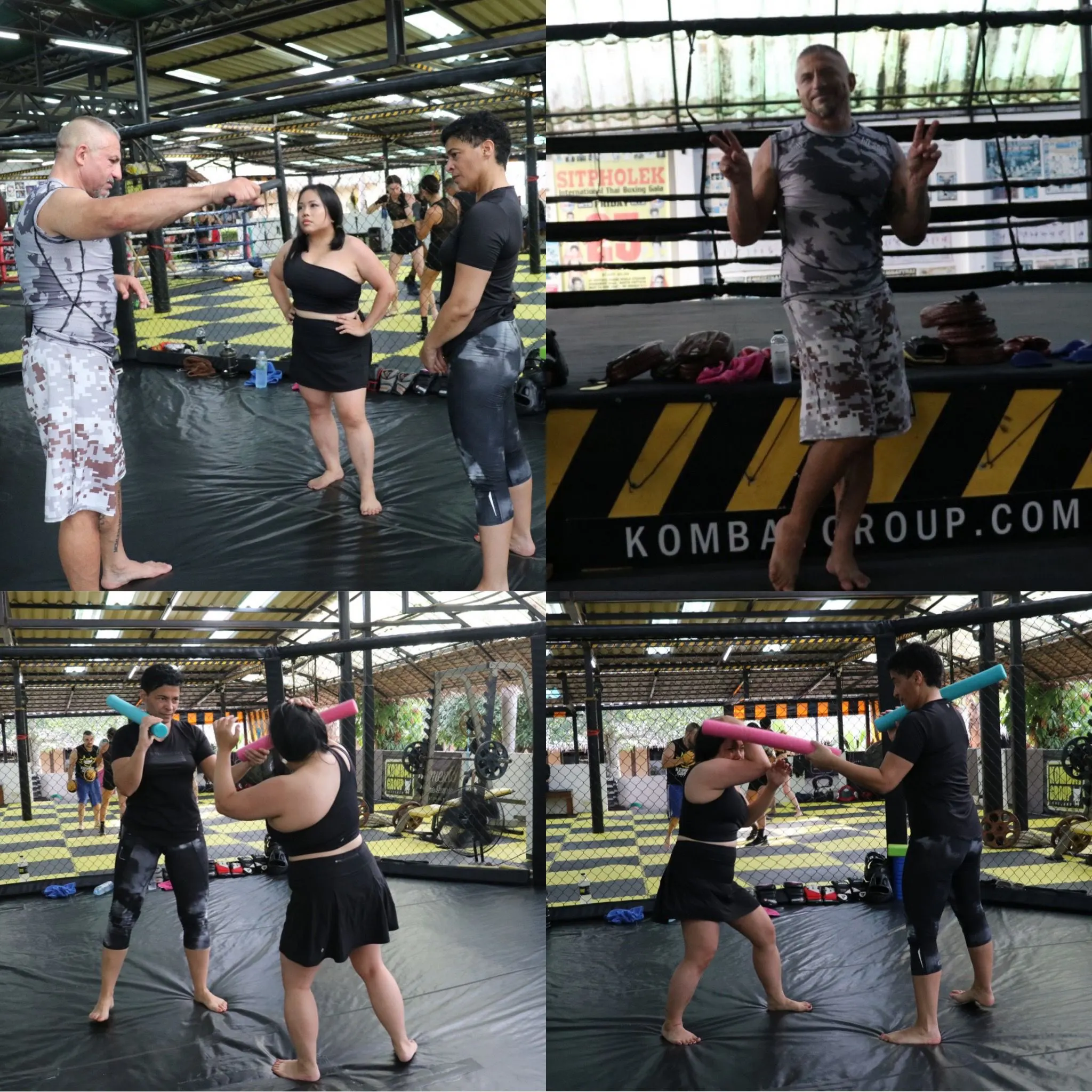 Barbara helped to unify the experience for me from beginning to end. I was happy to try the ice bath with her and also the Rapeh ceremonies. Whenever I needed help or any advice, she was always there to assist, no matter the time or the question.
The facilities are lovely, like an oasis in Pattaya! Beautiful lush grounds, a high-quality training gym, and the rooms and swimming pool were so comfortable. The kitchen staff are super friendly and work hard to prepare healthy and tasty meals to support fitness and weight loss. The cleaning staff always brought a smile to my face as well with their incredibly hard work to keep everything nice after a hard day's training.
I came to Kombat Group for four weeks, and it has been difficult for me to leave. This place has helped me to find the best version of myself, and I am so grateful for the chance to have trained here.
Do you feel the need for a transformation? Contact us today using the form below: