…twenty four hours later I'm back, laying out my suit and buffing my shoes. Its slush and rain in London. Kombat is a long way away but still with me. I miss them. I miss training. I want to go back…
Elvis is booming from the speakers. The timer beeps. A minute is up. The rhythmic smack of glove on pad is louder than the music. A cock crows. It's also loud but nothing like the howling from the pack of feral dogs that live outside the camp and start up around two every morning. Sun filters through the trees that ring the open-air canopied training area dressed with rings, mats, bags, ropes and weights.
It has the feel of an aircraft hangar. It looks like an aircraft hangar. The walls are papered with flyers for fights in Pattaya, instructions for twenty types of Muay-Thai leg strikes and above all, pictorial homage to Christian Daghio, the late owner and revered inspiration for all the camp stands for. He died in 2018, a few days after a fight from injuries sustained in his last round. The photos of him in and out of the ring are interspersed with motivational quotes about beating the impossible.
I consider breakfast but there's only an hour before my first training session, so I skip it. I don't want to throw up.
I'm in Thailand. On holiday. It's holiday but it's not beer, beaches and bar girls in Pattaya. In fact, they're not allowed. Well, the beach at weekends if you want but alcohol is forbidden in the camp and so is inviting anyone back to your room. Failure to observe this rule, I am clearly told, results in immediate expulsion. And no refund.
Oh, and no bare chests allowed in the dining room. It adds up to respect. For the staff, your training companions and yourself. After a day or two, I know it wouldn't cross anyone's mind to break these rules.
I am worried. Sparring day is the day after I arrive. I'm still jet lagged and coughing from the tail end of man flu, but it can't be missed. I can't send out that signal even to myself.
Sparring day is also called 'get punched in the face' day. I get paired up with a French guy. He's big and square with a domed bald head. He tries to hit me before the bell. When it does, he comes in hard and cracks me with a right hand.
Somehow, I thought he would lead with the jab but he doesn't and I haven't wised up before I take another overhand right and need to take a count to clear my head. I know I can't let him bully me, so I throw some stuff back and back him up with my jab.
He retreats into a corner, and I whale on him a little. Bunches of punches. He slips out and keeps coming but I sense his early energy is slipping. I see his chest heaving with the effort of getting air in and now I can pick him off more easily.
Suddenly, there's very little coming back and I catch him with a few more combinations. He sags on the ropes. He's done. I have it on video. My defence needs serious work. It looks like a barfight. I'm glad I got this guy before he gets his fitness up.
When the taxi pulled up from the airport, I suppressed an urge to tell the driver to keep going. The camp is located in the middle of scrub land and fields and the white perimeter walls are high enough to suggest a correctional facility. While I am still thinking about it, my bags are unloaded and I'm signing in. Whatever made me come here, it's done. I am in my room, unpacked and ready.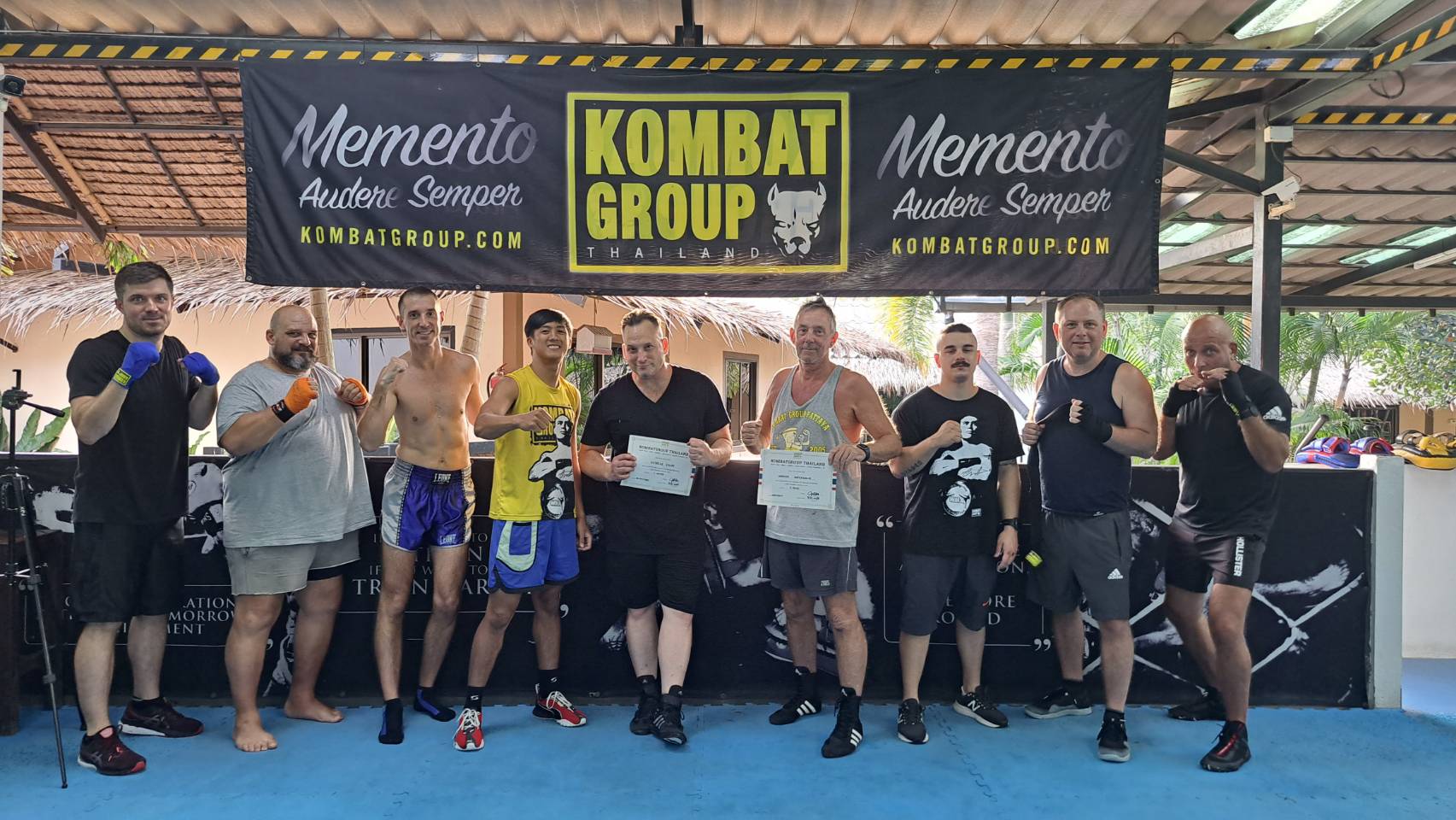 Outside is 'the world'. Inside the compound everything is different. There are trees, gardens, paths, a dining room, massage room and rooms lining the training area and a welcome pool. The sounds of legs and fists slamming bags and pads become background music through most of the day.
Twenty-four hours pass and my cough and jet lag haze are receding. I wondered how I would fill the time. The laptop and the notebook signalled the intention to write and work but the time between the morning training session, showering, breakfast, a massage and discourse on the meaning of life with fellow inmates compress the day to a brief spell before evening  training. After that, another shower, dinner and bed. Forty-eight hours in and I am institutionalised.
I get to meet the people. The kitchen staff, the cleaners, the laundry girl, the front of house girls and Barbara, the linchpin who holds everything together. They feel like family. I tidy my room before the cleaners arrive and take my plates back to the counter after meals. Laundry comes back ironed the same day. The whole place is spotless. The food is clean and lean, supplemented with bananas, fresh coconuts and eternal tea and coffee and the fridge is full of water. Delivered with a smile. Everyone smiles. All the time. Even when they are hitting me.
Each day, I skip, stretch, do foot drills, squat and work the bags. I have personal training thrown in and both trainers work me on the pads with endless patience. My footwork is lamentable. 'Pivot', says Andrei and I try. Joel toys with me, teaching me head movement and blocking techniques at the same time. If I miss the block, I get hit.
The demographic is eclectic. Lawyers, teachers, firefighters, corporate execs and students. Some are big guys, here to lose weight and others train for their own demons. A group of Krav Maga zealots from France take over the camp for a few days, the guys rangy and moody and the girls lean like California surfers with blond ponytails. They shout a lot and take wooden knives away from each other while delivering strikes to the throat.
I meet a range of people, Danes, Americans, Italians. We all have a story and many are like mine. Most are people I would like to see again, go to dinner with, seek advice from. We are all linked by the need to train, to work, to improve, to struggle. By whatever it is that brought us here.
Barbara calculated my body composition on arrival and gave me a print out, where all the parameters pointed to fat. I realised then; I qualify for the boxing camp but also the weight loss program. A few days in and I have eschewed sugar, carbs and beer. The portions are measured. We adhere to the Japanese principle of Ikigai, finishing a meal feeling only eighty per cent full. A little hungry. OK. I will tell you. There is a diversion.
Only one minute from the camp sits the Ang View café, on the shores of a lake. In the middle of not much, you open the door and it could be a Thai deli in London or New York. The food is wonderful and they serve beer. I broke ranks a couple of times, feeling guilty and disloyal but on balance, it was worth it.
I am a short timer. In and out in nine days. Many are here for weeks, some months. I get it. A guy who recently retired has 'Free at last' tattooed on his arm. He asked his wife what she thought of it and her response was' Nice font'. It sets me to thinking. This is freedom. I need more of it.
Before I know, I'm checking in online and packing up. One more punch in the face night and work out from Joel and I'm gone. And that beer? Well. I lost no weight at all but I did decrease my fat by a kilogram and replace it with muscle. I look better. Feel better. Twenty four hours later I'm back, laying out my suit and buffing my shoes. Its slush and rain in London. Kombat is a long way away but still with me. I miss them. I miss training. I want to go back. Khob Khun Kha.
Norman joined our Western Boxing course.
Do you want to have more information about it? Contact us using the form below.