I've been at Kombat many times now, but the last time was the best program i had so far. I told Kombat that I need to improve my cardio and they created a special program for me!
2014
I started early every morning with a private session with Barbara to build up my cardio. We went out running around the lake close to the camp. The perfect way to start the day.
Later I had Boxing for an hour with a very skilled coach and he pushes you to the limit every class.
The morning session ended with an hour of Crossfit with Barbara, and there is no cheating in her classes because you will get caught every time. So just do all the burpees and pushups she tells you to do….
After that, it was well-deserved breakfast and some hours of just relaxing at the camp. I had lunch about 3 hours before the afternoon session started.
The afternoon session was first one hour of Crossfit, and ended with 2 hours of boxing. So I had 6 hours of hard training a day and I loved every minute of it. This is the toughest program they have so if you want to push yourself to the limit you will just love the cardio program.
Earlier I did the Muay Thai classes and the weight loss, and I also did the Muay Thai instructor course, but this time I just focus on the boxing and cardio, which improved my skills, a lot in the ring. I move faster, punch harder and I can do more rounds in the ring before I throw up.
The camp in Huay Yai is a great place to stay as it is a bit away from all the temptations that Pattaya has to offer. So you can focus on your training at 100%.
It's a nice atmosphere at the camp with palm trees and pitbulls, the food is great and the rooms are newly built with your own shower and toilet and A/C so you got all you need. Everything at the camp is very professional.
World Muay Thai Champion Christian Daghio is the man who made all of this and he has done a great job designing the camp and the training facilities. And the trainers he selected to work at his camp is top-notch.
Memento audere semper.
Tommy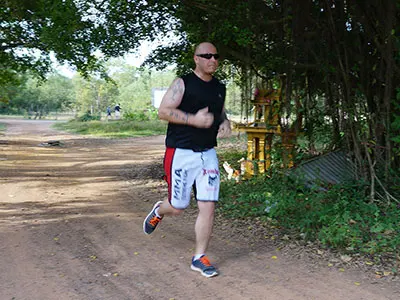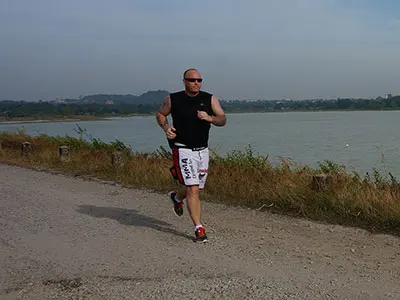 2012
I'm going to keep my testimonial short and concise. I went to Kombat Group to push myself to the limit as my only motivation and it worked. I just enjoyed every second at the camp.
Barbara my fitness trainer was always trying to break me and that made me work even harder. She can really motivate you to give 100%. Apichai my Muay Thai trainer really taught me a lot about different techniques and thanks to him I plan to fight next year.
Gerry Nolan´s Krav Maga sessions taught me a lot of nasty shit to keep you alive in dangerous situations you may face in life. He is really skilful and passionate trainer and that makes you learn a lot in a short time.
Unfortunately, I had to go back home to work, but I will be back again. My goal is to fight next year and I don't plan to lose that fight. So I keep on pushing myself.
This is just the beginning….."