I am Emma and I come from Milan, Italy. I decided to come here because I wanted to take some time to dedicate to myself and get back in shape as I was before.
The work and the stress that it gave me, plus an illness that hit me in 2009, were the causes that made me gain weight, and I was no longer the person I was before.
So I said to myself:
I need to go back to who I was.
I quit my job and decided to come here. I contacted this place because their website was in several languages ​​, and the description of their Weight Loss Program was dedicated to people. People who find themselves in a particular situation and who need to achieve their goals.
My initial idea was to stay for a month and, in the end, I stayed for two and a half months, because I really wanted to achieve my goals and because I realized that here they really supported and encouraged me and wanted me to achieve what I wanted.
I wanted to lose weight, but the most important part for me was regaining my strength, my physical abilities to do whatever I wanted, like walking normally and walking around without feeling tired or in pain all over the place. The weight loss was only a consequence.
I lost 20 kgs and gained a lot of muscle.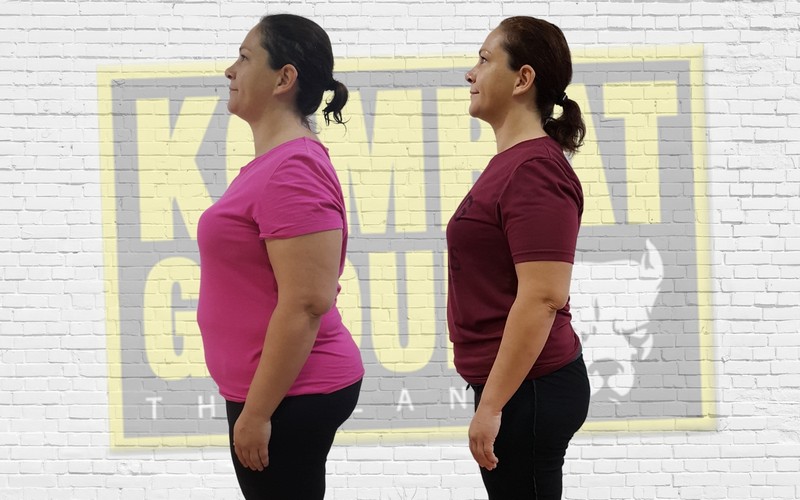 Gaining muscle means less body weight while gaining mass, and I'm really happy about that!
Whatever you are thinking, like "oh, I don't know if I want to go to Thailand or to Kombat" … Please come! And you will find that staying here is like staying with family.
After a few months here, it is really hard to leave. Not because it's always sunny, not because I've lost weight. But because every person here has been a key part of my weight loss process.
The food has been amazing, it has always been great. Different every day, and different from what you usually eat at home. But really good and cooked with love and attention. You eat well.
I feel I have gained more self-confidence from training, and from Boxing and Muay Thai.
I want to thank the Kombat Group for being the person I once was. I mean, before, I was much more sure of myself, and I've come back to feeling that way.
I'm going home to show everyone the hard work I've done here!
I want to thank every single person: Andrea, who was a person who helped me. Barbara, who is a fantastic friend, because now I can call her friends with her. Toy, then who else … if I start thinking about all the people here, the emotions take over again …
Thanks so much!
Do you want to lose weight while gaining self-confidence? We have the right program for you! Contact us using the form below: