I had the idea to have a more active holiday. When my two sisters decided to join me in Thailand, I was a little apprehensive. We weren't sure what to expect. We were somewhat fit and one of my sisters, due to medical reasons, hadn't exercised for two months prior to our trip. I wondered whether we would be able to keep up with 6-8 hours of training daily and with the other more professional fighters around. Now that we're back, I realize all that concern was pointless.
The trainers are very quick to gauge your level of fitness and they alter the exercises accordingly. The training is intense and rewarding. I began to see how my technique, stamina and overall fitness was greatly improving in a matter of days. The fact that you are training with world champions, fighters, amateurs and complete newbies – is very inspiring. We never felt like there was a division between the more experienced fighters and the rest of us. Quite often, whenever we were taking a break, I would watch the more professional boxers train. It was my first time to see that level of skill and I drank it all in.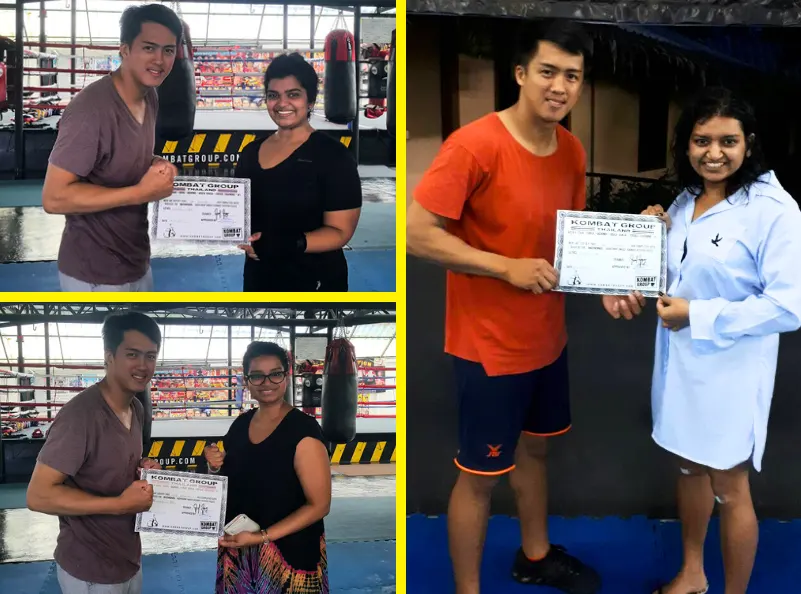 Cristiano, Joel and Wud, were our favourite instructors. Encouraging, challenging, approachable and humorous, they gave it their all. Training in an open air gym was challenging ( because of the humidity) and charming (I loved the feeling of working out against the backdrop of a thunderstorm).
The variety of martial arts on site is impressive. We did functional training, Muay Thai, western boxing, yoga and krav maga. The latter two were a surprising interesting addition to our regime. I had never done Krav Maga before and the instructor has a very engaging way of teaching. He really makes you feel like you're going to be attacked. Yoga in the evenings with Barbara (and Blinky the cat) was a relaxing way of cooling down and getting a good stretch. All in all, the training program is worth its weight in gold. It really works. Now that I'm back home, my trainer has told me he has seen a significant improvement in my technique and fitness level. In my first week back, I felt like I was bouncing off the walls. I was working out twice a day and still felt like I had more energy to keep going. It was a tremendous feeling & for that alone, I recommend it to nearly everyone I meet.
A quaint, charming and lively camp with friendly pets and kids
Management
We were greeted by the wonderful twinkle-eyed Barbara on arrival. Her cheerfulness was something I came to look forward to and then look up to. She's very efficient and is currently studying more about yoga and eastern tradition. She adds a spiritual depth to the experience – which was very uplifting. There also two compelling reasons (in the form of two beautiful black cats) to keep visiting her office. In fact, all the staff in the camp are friendly and approachable. What's more, I found the process of booking to be very easy and straightforward. Toy answered all my emails promptly and payment through PayPal was very convenient. The shop on the premises has good quality wraps, gloves and shirts – which you can buy or rent. I bought a pair of gloves to take home with me and now wear it with pride.
Ambience
When I was booking the retreat, I expected the place to be clean and basic. It was so much more. The landscaping of the entire camp is so quaint and charming. Leafy greens artfully creep over the trellises arching over the manicured lawns. The camp is home to a few quiet little spots with benches and ponds glittering with goldfish. Christian lives at the camp with wife and daughter – meaning, you see little children running around and playing tag. Nala and Simba, the two pit bulls perpetually stationed in the kitchen, are always up for a game of tug or a belly rub. The two outdoor cats, Inky and Blinky – slink about with the premises ready to joins in for a yoga class. All in all, the camp is endearingly charming – a far stretch from the testosterone-fueled ambience one would expect from a boxing gym.
Facilities
The rooms are spacious, well airconditioned, cleaned, well equipped and cleaned on a regular basis. The three of us stayed in a deluxe room and found it to be spacious and comfortable. The wi-fi reception was exceptional – I was genuinely impressed by it. The verandas in front of each room was a welcoming spot to dry out our wraps and gloves or just cool down before we entered our rooms. While you won't find any bugs in your room, it is Thailand: so it is helpful to burn a coil at night to keep away the bugs. It might be a good idea to bring a fly-swatter with you if a few sneak into the room.
The dinners were impressive – huge juicy steaks with all the trimmings. We always opted for the breakfast vanilla protein shake, which hit the spot after a 3 hour morning workout on an empty stomach. I was surprised to learn how little food you really need to sustain a particularly active life. When we asked for our food to be made with a little more spices (for our Indian palettes) – they obliged and catered to our needs.
We frequently used the washing machine in the camp which was very convenient and cheap to keep the (many) clothes we used during our stay. The massage parlour was excellent – it is a 15 minute walk – which isn't too far. However, after training, it seemed to be a rather draining walk – so we went there only twice during our stay. Renting a scooter would've been a good idea in this regard. Additionally, Kombat Group organizes regular trips into the city for different tourist attractions including Muay Thai matches – although we didn't opt for any of the excursions, as we were happy to stay in camp.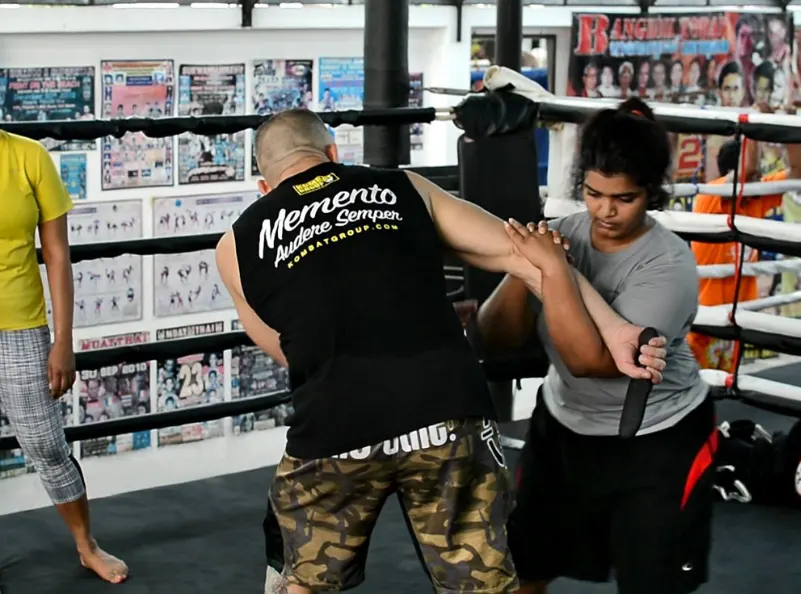 BOOK YOUR STAY NOW!
All in all, we highly recommend visiting Kombat Group. You meet a lot of interesting people at the camp and it is a great way to disconnect from the distractions of city life and focus on your own wellness. As three women, we found the area very safe and accessible. It was a great way to spend quality time with your family and because there are so many types of training available, you can go there with your partner even if the two of you have different requirements and interests. While the majority of trainers and students are men, we never felt out of place or not welcomed.
Honestly, if I could have I would have extended my stay beyond my initial two weeks. I could easily see my self-staying there for two more weeks or even two more months.
Come work on your goals too! We are here for you ;)