The rooms of Kombat Group have been designed to be practical, welcoming and comfortable.
The resort has 37 rooms of different sizes and outlay: 10 deluxe rooms, 20 standard rooms, one shared room, 5 fan rooms and one dormitory.
All rooms include a patio overlooking our beautiful tropical garden (for Standard Rooms) or our pool (for Deluxe Rooms). The patios have an outside table and chairs, creating a nice place to relax in the shade. On request, we can provide deluxe rooms with a garden view. The fan rooms are located outside the resort, also within walking distance of the restaurant and the gym.
Our staff is always at your disposal to ensure a pleasant stay full of happy memories.
Tell us when you are booking or directly upon arrival your special needs, and we will do our best to satisfy them.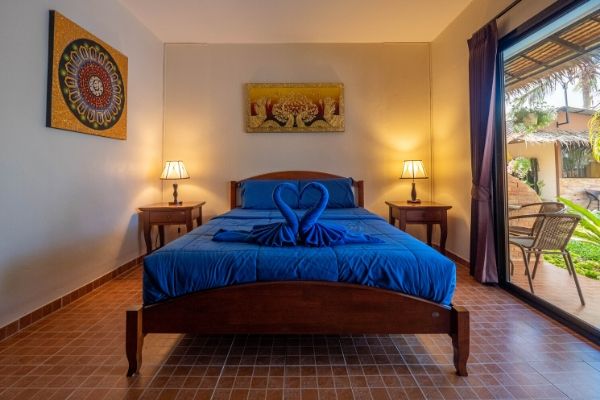 SINGLE DELUXE ROOM
The Single Deluxe rooms are ideal for those looking for comfort during their stay.
They are equipped with air conditioning, wardrobe with safe, mini fridge, kettle with tea and coffee, 2 small bottles of water per day, TV and DVD-player, toiletries (shampoo, soap and conditioner), hair dryer and WIFI.
They include an en-suite bathroom and a single bed with the possibility of upgrading to a double room for single use.
All rooms overlook the pool and have a patio with a table and chairs to relax during leisure time.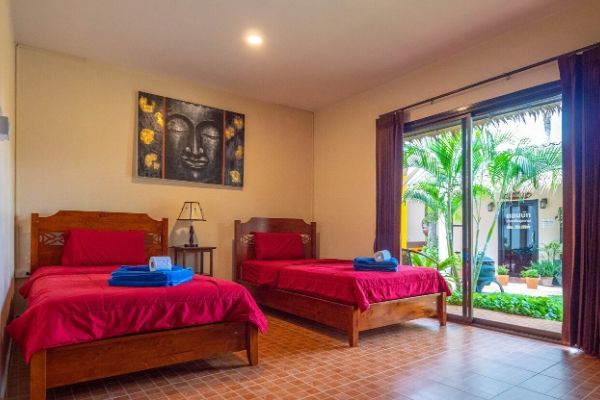 DOUBLE DELUXE ROOM
The Double Deluxe room is perfect for couples who want to give themselves a healthy holiday and great adventure.
They share all the same comforts of the Single Deluxe rooms. The only difference is, that they are larger and are equipped with either a double bed or two single beds.