We sat down for a chat with Lainey (Ireland) and Patricia (Austria) after a few weeks into their stay at Kombat Group Thailand. Both are here to increase their fitness level and improve their body composition (more muscles, less body fat). They have big individual goals, and both are really enjoying the training and resort so far! Read about their journeys below and get ready to be inspired.
1. Give us a brief overview of your fitness background and why you decided to make a change to your health by joining Kombat Group Thailand.
Pat: Growing up as a typical book worm, I've never been good at any kind of sports and the older I got, the more I felt embarrassed by my lack of skills and athleticism. Additionally, I felt like it was already too late to start learning a sport like boxing or a martial art as an adult.
However, over the years, my lack of endurance made me miss out on many fun group activities both at home and while travelling and when I noticed that I frequently got out of breath simply by walking up a flight of stairs too quickly, I realized it was time to make a change. My few attempts to get fit on my own never lasted longer than a few weeks though, so I needed a better plan. Kombat Group Thailand seemed to me like the perfect place to achieve my goals and now that I'm here, I couldn`t be happier with my decision.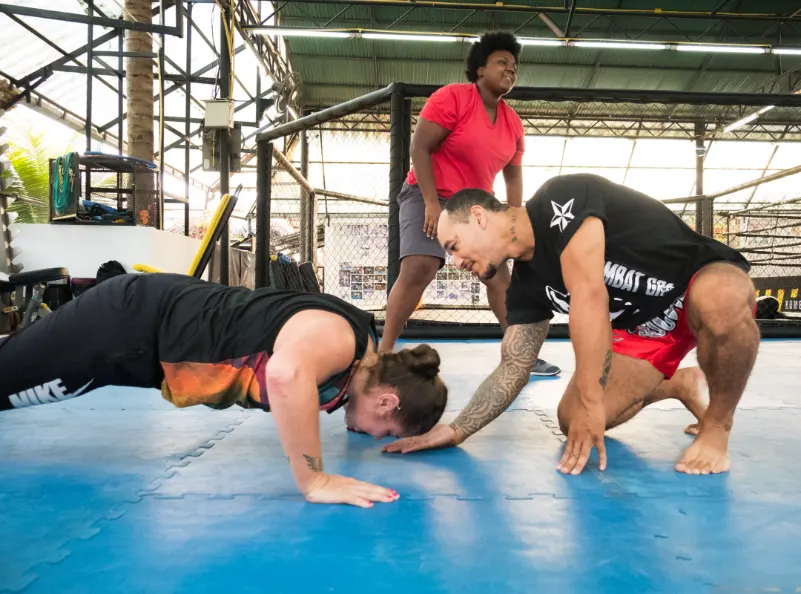 Lainey: I used to be a sports addict when I was in school but since then I've done very little fitness. I noticed over the past few years that I was losing my physical strength and ability to even run a mile without being out of breath. I've always dabbled with going to the gym but found it hard to motivate myself to keep going to the classes. Work has also been my priority over the past 5 years, which, unfortunately, took precedence over my own physical health. Now that I'm in my late 20's, I feel like I need to switch that priority around and get myself back to being fit and healthy, or my body will pay for the negligence in later years.
2. What's stopped you from staying fit and healthy in the past?
Pat: Mostly a combination of health issues which made exercising more difficult, as well as a lack of motivation. A big factor was also the embarrassment of being too weak and too uncoordinated to do anything remotely athletic.
Lainey: The first thing that paused my willingness to stay active, was school exams. I stopped playing sports at school to focus on studying. And then after I left school, I got caught up in college, work and partying. When you combine all those, there isn't much time for the gym or fitness classes left.3. What were your fitness goals when you started at the camp and how much have you accomplished so far?Pat: My main goals are to change my body composition by building up muscle and burning fat and to improve my endurance. After only 2 weeks at Kombat Group, I can already keep up much better during the workouts. I have more energy and I've gotten a lot more flexible.
3. What were your fitness goals when you started at the camp and how much have you accomplished so far?
Pat: My main goals are to change my body composition by building up muscle and burning fat and to improve my endurance. After only 2 weeks at Kombat Group, I can already keep up much better during the workouts. I have more energy and I've gotten a lot more flexible.
Lainey: My goals are to lose weight, build muscle and strengthen my core. So far, I'm feeling a bit stronger and fitter and I can see a better core formation starting to appear on my stomach. I'm happy with my progress so far and intend on keeping it up!
4. How many days a week do you workout at Kombat Group Thailand?
Pat: I'm doing 18 hours per week now, which means 3 hours a day from Monday to Saturday.
Lainey: At the moment, I do functional training and boxing every day for 6 days per week – so that's 3 hours of training per day. It's definitely a step up from what I was doing before I came here (i.e. nothing!).
5. What does a typical day look like for you?
Pat: 8:00-09:00 breakfast | 11:00-12:00 BJJ (Brazilian Jiu Jitsu) | 12:00-13:00 sometimes swimming/relaxing at the pool | 14:00-15:00 lunch | 17:00-18:00 Krav Maga | 18:00-19:00 MMA (Mixed Martial Arts) |20:00-21:00 dinner and filling most of the free time during the day with computer work and such.
Lainey: I get up at about 7 am and have muesli and coffee for breakfast. I'm on the skills exchange program with Kombat Group, so I get a few hours of content marketing and social media work done. Lunchtime is at 1 pm, and after that, I try to get another hour or so of work done. Then it's time to get ready for 3 hours of training, after which I'm exhausted. By the time I shower after training and have dinner, it's about 8.30pm. That's when I relax, watch a bit of Netflix and fall asleep at about 10 pm.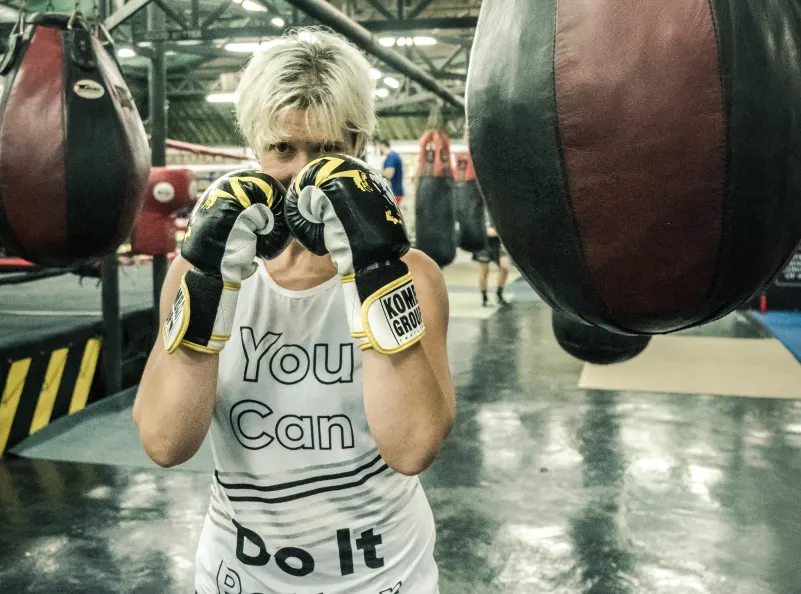 6. Do you find that the classes are tailored towards beginners as well as advanced athletes?
Pat: Absolutely! I was quite impressed, how well the coaches manage to adapt all exercises/training, so they are manageable for complete beginners, but at the same time still challenging even for the most athletic amongst the camp guests.
Lainey: Yes, 100%. I was a beginner when I came to Kombat Group but I never feel like the training is too hard. Furthermore, I'm training alongside advanced fighters who also always get a really good workout done and learn loads in each session. Due to the fact that there are so many trainers on hand during the sessions, everyone gets individual attention, and the trainers know exactly what level everyone is at.
7. What are the best aspects of Kombat Group in your opinion?
Pat: I felt the positive vibe of this place the minute I arrived. There is a strong camaraderie between all the resort guests and the whole staff is super helpful and always smiling. All the coaches are highly skilled and know exactly how to both challenge and motivate you, while also making it a lot of fun.
No matter how hard and exhausting the training might be, there is always good humour and plenty of laughter going on, which helps me to keep motivation strong and push myself even further. Also, the whole camp is really nice. The rooms are clean and cosy and I love the beautiful garden and the pool!
Lainey: I love how my room just steps away from the gym. The restaurant that serves breakfast, lunch and dinner and is also on site as is the swimming pool. Everything you need is only a few metres away, and the camp is in the middle of the countryside, away from all distractions. This makes it easy to stay motivated and not skip any classes! The trainers are all amazing as well. They know exactly what to do and say to you during training to keep you moving even though your muscles are burning and your eyes blinded with sweat. The rest of the staff that keep the camp running on a daily basis, from the kitchen staff to the office staff and maintenance staff, are all so friendly, hard-working and always have the time to stop and say hello to you. There's a lovely family feeling to the Kombat Group atmosphere and everyone makes you feel so welcome.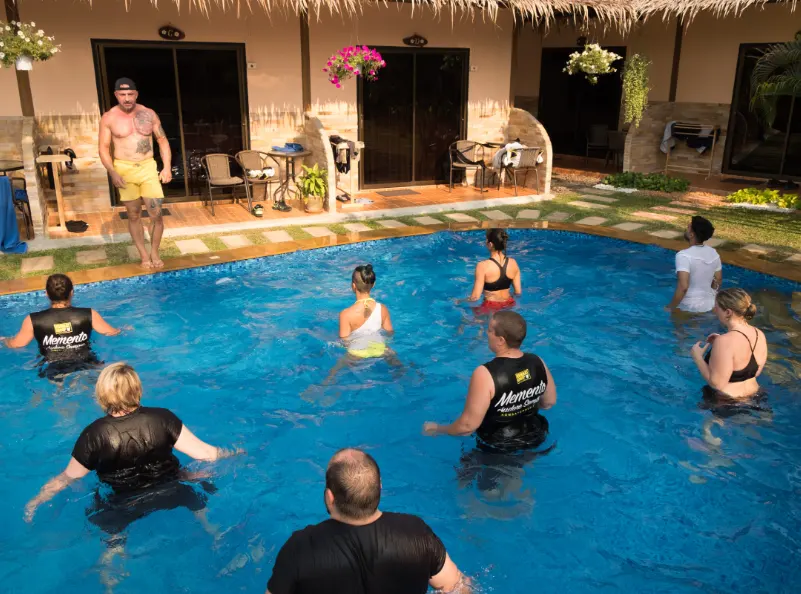 8. What's the nicest dish you've been served at by the chefs?
Pat: I loved it all so far. Pumpkin soup, Pad Thai, stir-fry with pepper tofu and the banana muffins with peanut butter (my personal Sunday breakfast option), are amongst my favourites. I also really appreciate, how the kitchen crew always accommodates my vegetarian diet with nicely balanced and varied dishes.
Lainey: That's a hard question because all the food is so nice. The dishes are freshly cooked every day and the ingredients are locally sourced. But the meal that stands out to me is the coconut chicken soup and rice – one of my favourite dishes of all time and the Kombat Group chefs cook it so perfectly!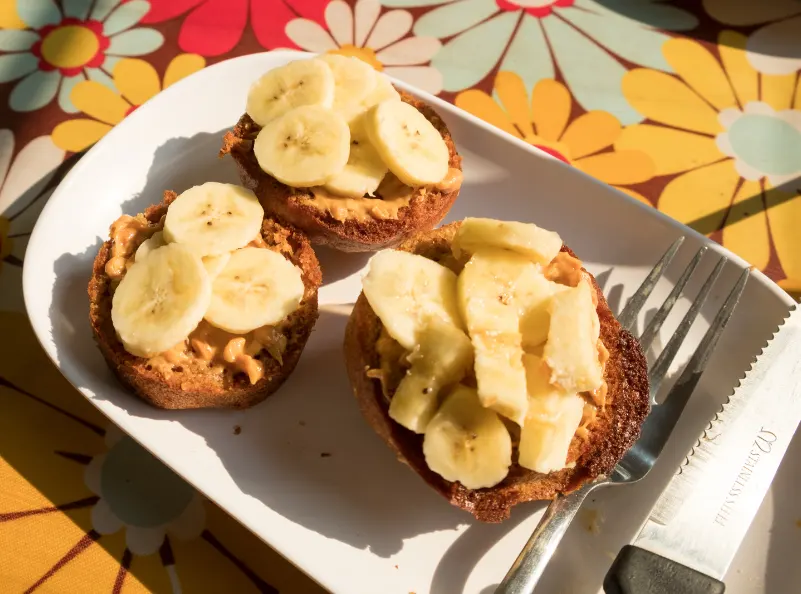 9. Do you take any supplements?
Pat: As I'm a vegetarian, I take iron and folic acid supplements as well as BCAAs.
Lainey: I take my vitamins every morning, but no fitness supplements. The vitamins I take are Vitamin C, Zinc, Magnesium powder and apple cider vinegar. All mixed together in a glass of water.
10. Is there a difference in your mental/physical attitude compared to before and after you joined the camp?
Pat: After only 1 week of attending all those classes which are great for self-defense (Krav Maga, BJJ and MMA), I've already gained a lot more confidence, feel stronger and my body posture has improved as well. In my first Brazilian Jiu-Jitsu class, all the movements felt rather alien to me. The simple warm-up exercises, that any 3-year old would be able to do, seemed almost impossible to accomplish. Now, I can already see big improvements and although I wasn't sure in the beginning, I have now decided, that I definitely want to continue training BJJ during my whole stay at Kombat Group.
Lainey: Before I joined the camp, I didn't believe in myself that I could lose weight and get fit like I used to be in school. But now that attitude has changed completely. Even after two weeks, I'm starting to notice a difference physically and that's been very encouraging. And with the trainers and camp peers motivating me to keep going and the fact that everyone is here for the same reason (to improve their fitness), there's never a moment where I feel like my goals are impossible.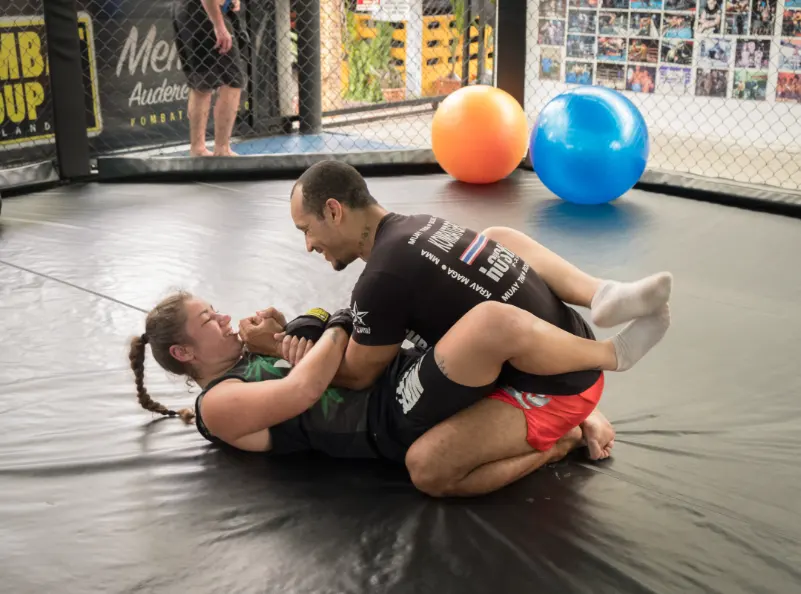 11. What's been the most challenging part of your fitness journey so far?
Pat: The functional training classes, which are really hard for me. Every time, I feel like it's impossible for me to get through the class, but once the training is over, I feel very proud and accomplished.
Lainey: Making the decision to come to Kombat Group was a challenge. To come to a fitness camp in Thailand and dedicate yourself, your mind and your body to training in 30 degrees heat, 6 days per week, is a huge decision to make. But I'm delighted I made it and I'm here now with no plans on giving up.
12. What would you say to encourage someone who's never really exercised before, but is ready to take the first step and train at Kombat Group Thailand?
Pat: In my opinion, there is no better or more fun way to increase your health, fitnes