What makes Kombat Group an efficient Weight Loss Resort? Weight loss camps, resorts, and retreats are growing in popularity worldwide with people who want to spend their vacations working to achieve better health. Kombat Group Thailand is one of the best in this category, and we will show you why!
Due to the many terms used, there can be confusion about just what a "weight loss camp" or "weight loss holiday" entails. The term "weight loss camp" or "fat loss camp" is used most commonly and is a place where people who are overweight go to live for a short or long period of time to focus on losing weight in a structured environment that offers exercise, proper nutrition, and support to make lasting lifestyle changes.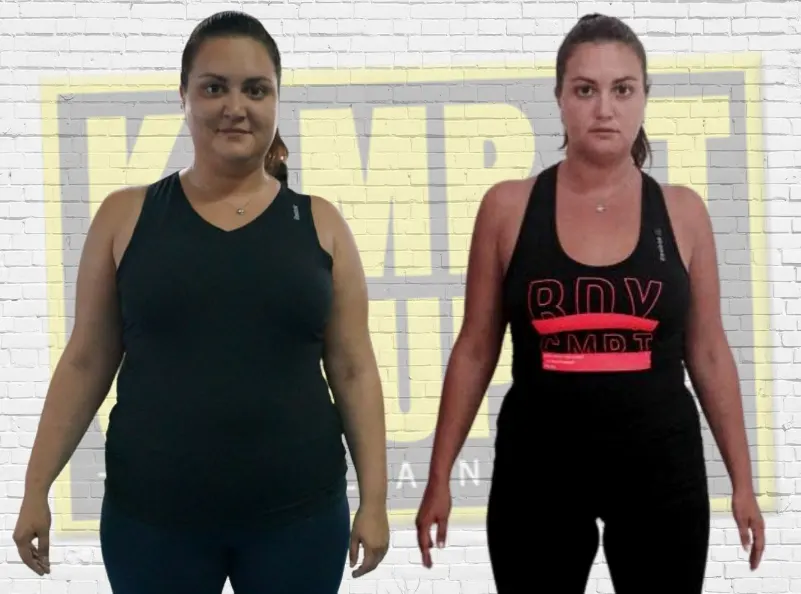 Kombat Group functions as a weight loss camp with the bonus of resort amenities which makes it both a weight loss camp and a resort. There is an all-inclusive residential program here so that anyone who wants to lose weight can do so with the aid of:
Daily exercise and training
Each day, except Sunday, there are martial arts and fitness sessions offered both morning and evening. You can participate in a wide variety of training based on the very effective HIIT method, which alternates periods of high-intensity activity with low-intensity or rest. (For example, Muay Thai training sessions are three minutes of high intensity followed by one minute rest period.) Your individualized plan includes dynamic stretching and a mix of different martial arts and fitness classes combined in a way that makes weight loss more efficient. Training six days each week not only allows you to lose fat, increase strength, and improve endurance and flexibility, but it also gets you into the routine of regular exercise.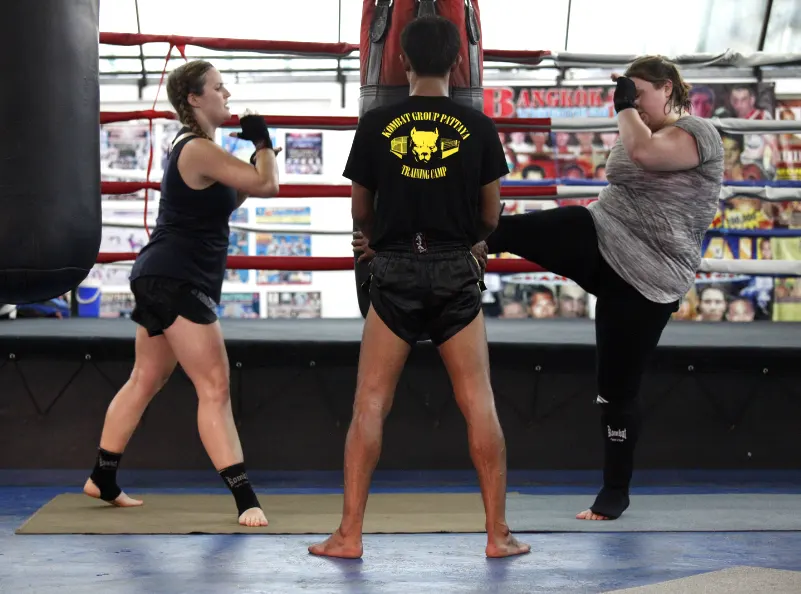 Balanced nutrition
The weight loss program is all-inclusive, so it includes three meals each day which offer the ideal and appropriate balance of protein and fibre with minimal fat. Dietitians develop daily meals to be low-calorie, low-fat, high-protein nutrition with the goal of sustainable energy for daily workouts while allowing you to lose weight. Also, you learn how to identify healthy food choices and balance meals properly, which will assist you in making this lifestyle change.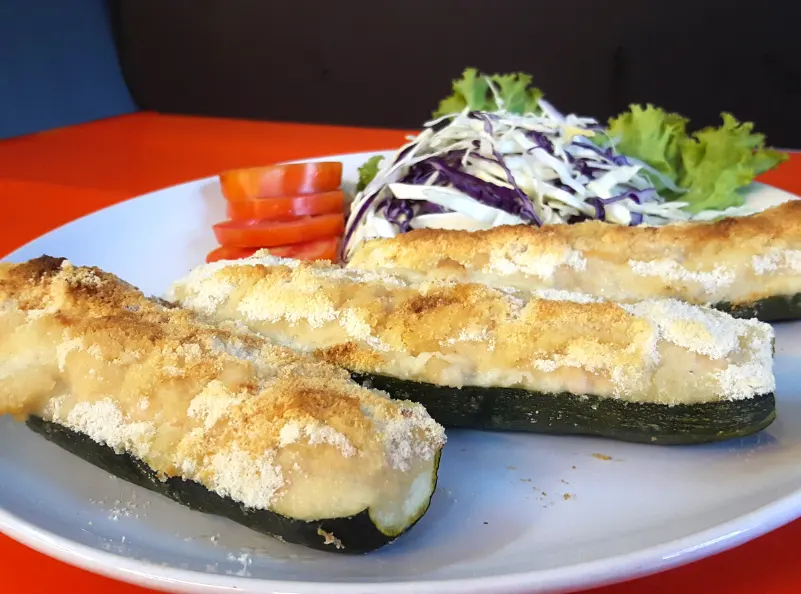 Weekly progress reports
We monitor your body composition weekly and use the metrics to adjust your individualized program or diet, if necessary. These metrics include weight, percentage of lean muscle mass, water retention, and body fat percentage. Additionally, functional training workouts are timed to create benchmarks to improve each week. We make it easy for you to focus on your personal goal by making the goal simple and easy to measure.
Personal coaching
Unlike other gyms and camps, Kombat Group maintains small class sizes and employs numerous trainers so that everyone can benefit from personalized attention during training. This ensures that you make each movement correctly and avoid injury, but it also encourages you that will motivate you even after you leave the camp. Additionally, Western Boxing and Muay Thai training both guarantee one-on-one ring time with a trainer who will push you to achieve your best.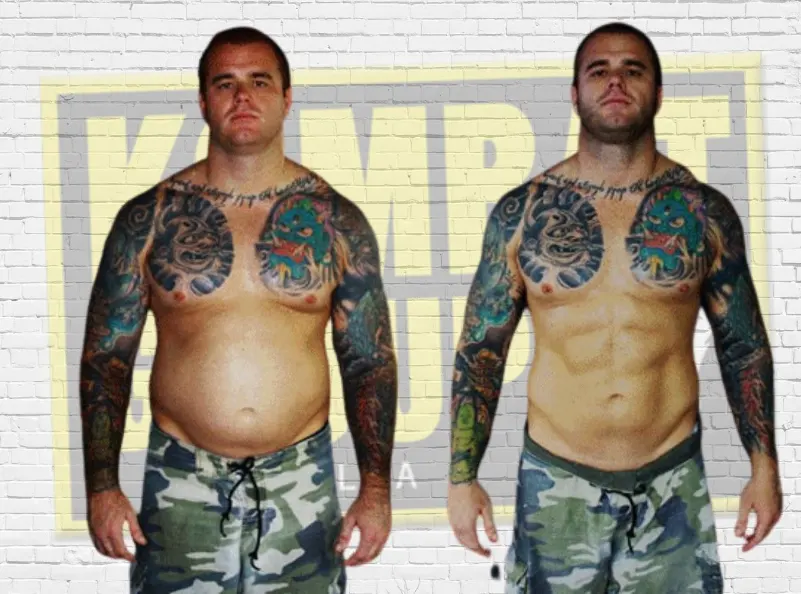 A supportive atmosphere
In addition to the personalized coaching you receive, you also reap the benefits of group training and gain support from the other campers. We all live together in one location, train together, and even socialize together outside of camp, which will help you to remain disciplined when eating/drinking off-site. You will make lifelong friends, and the camaraderie allows you to push harder than you would if you were in the gym alone.
Lifestyle training
Though your goal here is to lose weight, our program is designed for long-term behavioural change. You will receive training to make lifestyle changes that allow you to manage your weight once you leave the camp. In addition to learning exercise techniques and gaining motivation, you learn how to make exercise a habit, hydrate properly, listen to your body and plan nutritious meals, among many other useful skills.
Resort location
Kombat Group is a training camp with the amenities of a resort, including deluxe accommodations, a private swimming pool, gardens, and an on-site restaurant. Also, being outside the city allows guests to enjoy cleaner air and a greater focus on achieving fitness goals.
YOU HAVE THE POWER TO CHANGE; YOU HAVE THE POWER TO CHOOSE WISELY.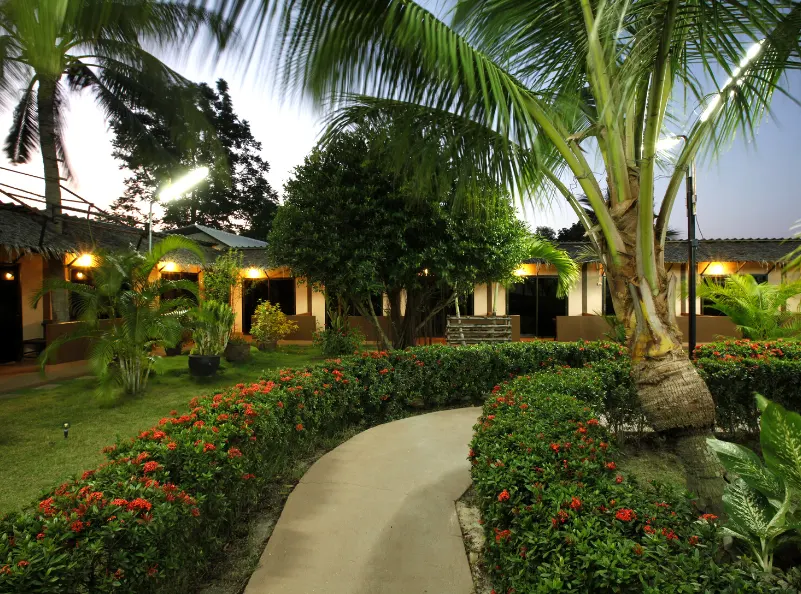 To learn more about how our weight loss camp & resort can help you, fill out the form below: