Here at Kombat Group, we offer a wide variety of martial arts training and we are especially proud to be one of the few places in Thailand that specialises in Western Boxing. Boxing is a sport like no other; requiring both physical and psychological strength, boxing not only offers an excellent full-body workout but also a mental challenge as well. Whether you've boxed before or are completely new to the sport, you may have already thought about stepping inside the ring. A fight can seem like both a daunting and exciting prospect, but you don't have to do it alone. Kombat Group is offering fighters the opportunity to train for two weeks this March and then take part in an amateur fight on March 13th, 2020.

How an amateur fight works
Amateur boxing is a fantastic introduction into the world of competitive boxing; unlike professional boxing, it is fought over fewer rounds, 3 in total. Men fight 3 rounds of 3 minutes and women fight 3 rounds of 2 minutes. The winner of each round is the one who lands the most punches in the scoring area; the head or body of the opponent, above the belt. The winner of the bout is the boxer who wins the most rounds e.g two out of three.
What you will gain from the experience
Whether a first fight or a 100th fight, every bout is a special experience for each fighter. Having a target and a set goal teaches you unique self-discipline. A bout offers the amazing opportunity to put your training to the test. We know the training before a fight is crucial so you will practice sparring, techniques and pad work in the lead up to the fight, ensuring you feel ready to step into the ring. The trainers at Kombat have fought many times themselves so will guide you every step of the way and answer any questions you have. More than anything else, a fight is an opportunity to learn, it is a great chance for any boxer, experienced or inexperienced, to gain some invaluable skills and training.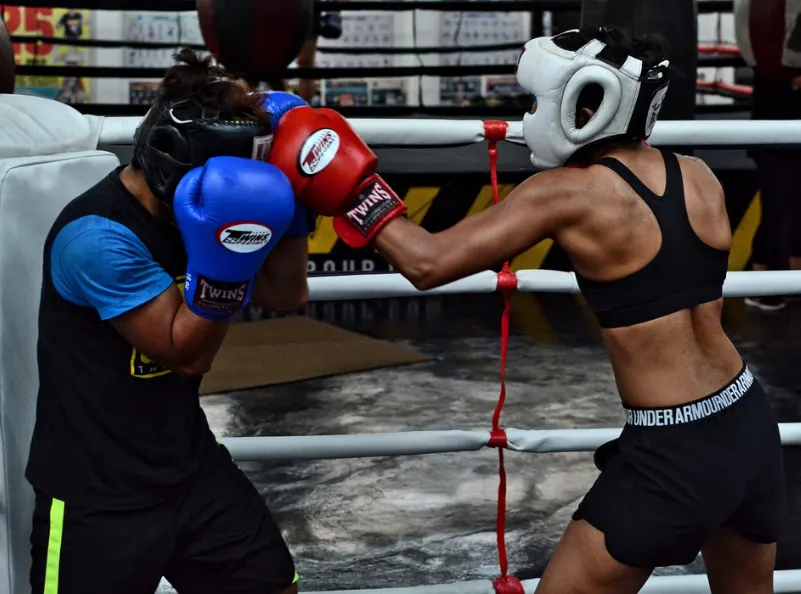 How to participate
You can train with us at Kombat Group as long as you would like (a minimum of two weeks is required) and you can choose between the Regular Package or the Fighters Package.
Regular Package + Amateur Fight: two weeks in single deluxe room 47,200 baht
Regular Package + Amateur Fight: two weeks in single standard room 40,900 baht
Fighter's Package + Amateur Fight: two weeks in single fan room 22,200 baht
Fighter's Package + Amateur Fight: two weeks in shared fan room 19,500 baht
All the packages include three meals a day, accommodation and training twice a day. To check what is included in the packages, visit our Prices & Packages page or Contact Us with all your questions.
So if you feel ready for the challenge, let's fight together!