"I was 14 years old hanging out with older kids getting in heaps of trouble with the police. I wasn't really doing anything bad, just doing dumb stuff with the crowd and got banned from going out at night. So I was hanging around town during the day to cause some trouble and heard the sounds of these ropes skipping. I was curious and found this boxing club. I stood in the doorway watching for ages until the coach said, 'Well, you coming in?' and I was like, 'Okay!'"
The seed was planted…
This was the beginning of Tania Reid's boxing career. Growing up in the small town of New Plymouth, New Zealand with little to do and even less guidance, boxing gave Tania everything she was looking for: direction, discipline, a real challenge and a sense of pride. Unfortunately the gym shut down only six months later, and being the only the boxing gym in New Plymouth, Tania's boxing career was postponed. Although it would be another 15 years before a boxing gym opened up in town, these six months planted the seed for Tania Reid to eventually win the Australasian Female Light Title.
Building her foundation…
In 2007, The Box Office opened up in New Plymouth, and Tania was finally able to get back to work. After winning her first amateur competition in front of 1500 people, the local newspapers asked her of her goals to which she replied, "To fight for New Zealand." Little did they know the waves she would be making in the sport years later. With an eight year old son and other obligations, Tania's career again was postponed. This time for two years. When she got back in the gym in 2010, her son started training with her and together they made history as the first mother and son to compete on the same card in New Zealand history.
Tania's dream to "fight for New Zealand" never died, and she was selected to join the New Zealand Team in 2013. Over the next four years, Tania regularly traveled to compete internationally for her country. After roughly 40 amateur fights, Tania decided to go Pro in 2017.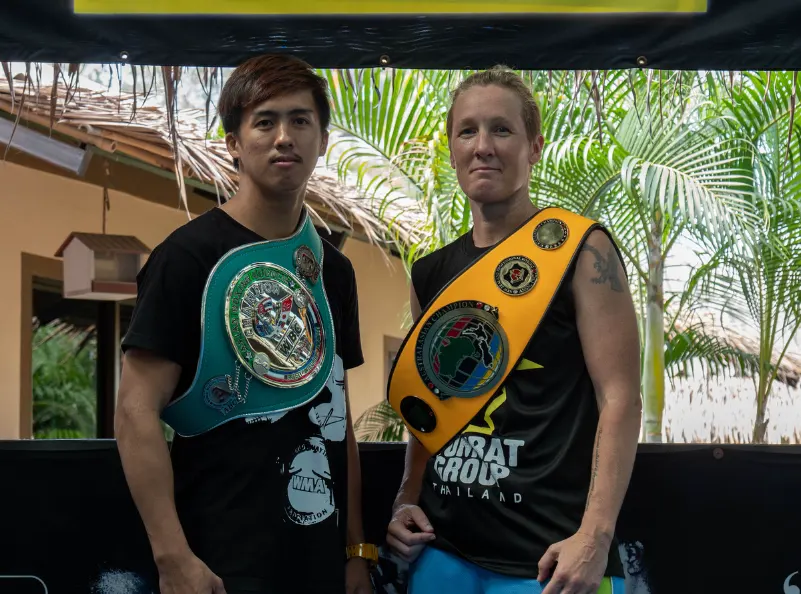 Identifying her obstacles…
Having only competed in her hometown twice, Tania was able to get on the undercard of a huge promotion in New Plymouth for her professional debut. She won by unanimous decision with her opponent later telling her that it was the hardest she'd ever been hit. The next fight was ruled a draw to Tania's surprise. "I felt like I had a slight edge on points, but I didn't quite bring what the judges were looking for. From the amateurs, I had a tendency to fight on my back foot a bit and needed to bring more aggression. I was still making the transition from amateur to pro, and in professional boxing, you need to do some damage to score." She ran into this same issue in the rematch six months later. She thought she had won, her coaches thought she had won, but she didn't quite bring the aggression that the judges were looking for.
"That was the fight that changed everything for me."
She took her next fight a year later in May of 2019; her fourth pro bout to date against New Zealand Champion Baby Nansen. "That was the fight that changed everything for me," says Tania. "I lost that fight, mainly due to my headspace…I was doubting my ability, in the middle of a separation and just not really in the fight. It was a real wake up call. I hadn't fully committed to boxing at that point and was more of a professional hobbyist with one foot in the sport and another in distraction. I knew I lost, but I knew I could have won if I'd applied myself…if I'd actually been focused and 100% committed."
Getting focused…
Two days later, Tania separated from her relationship and within the month, traveled to Thailand to focus on her training. She stayed in Thailand for three months trying different gyms, spending her longest stint at Kombat Group Thailand. After arriving back home to New Zealand, she was offered a fight for the Australasian Title in November. She immediately decided to return to Kombat Group Thailand where she spent another five weeks.
"I was the real underdog for this fight. This girl was 20 years old coming off a 5-0 win streak… kinda the next big thing coming out of Australia. She'd even beat the girl I'd lost to in my third fight. And I was fighting in Australia…on her turf. And here I am…41 years old."
And on November 30th, 2019, Tania Reid took the Australasian Female Light Title with ease. "I knew I'd won every round and beat her to every punch. I'd worked hard, was super focused, had a great build up with my team…everything went just how it should. I had heaps of fun."
After the fight, the doctor was checking Tania and said, "You know, your opponent was 20 years younger than you, right?" Tania's immediate response was, "Not bad for an ol' bitch, eh?"
Sharpening her tools…
Tania recalls judges approaching her after the fight telling her, "You absolutely outworked her, outsmarted her. She had no answer." After asking what she could improve on, the judges replied, "Just keep doing what you're doing, but keep sharpening up. Same tools, just get 'em sharper."
Tania didn't waste time before getting back to work. In January 2020, she returned to Kombat Group Thailand to prepare for her next fight for the New Zealand PBC Female Super Light Title. The bout will take place Saturday, February 29th in Aukland, New Zealand.

What mental barriers have you had to deal with in your career?
"Like I said, my fight last year against Nansen really got my attention. I could see how my mindset was really the only thing standing in the way of my success. I'd never really backed myself over the years. I could be up in a fight and in an instant, start thinking I wasn't good enough, wasn't fast enough…just okay. And a part of that was cultural…no one really encourages you to stand out or be the best where I'm from. After that wake up call, I really started to focus on my headspace. I changed up my environment, eliminated negativity and started reprogramming my thinking."
What are your future goals in the sport?
"I'll be the oldest female title-holder in New Zealand. People say when you're 40, you're old. Screw that. What? You're not allowed to chase your dreams? You're not allowed to do what you want? I want others to see it's possible. But I'm doing this for myself. I want a shot at a World Title, and I want to collect all the belts along the way. I'm here to box and no one's going to get in my way. As long as I'm physically and mentally fit, I don't see why I can't. I'm smart enough that I'll know when it's time to retire. And when the time comes that I'm no longer capable, then I probably won't want to be boxing then anyways. At that point, I'll focus more on coaching. Men and women and children. I currently work with troubled youths and do mentoring back home. It'd be cool to coach kids like me that wanted some guidance, some discipline, a real challenge and a sense of pride."
"I want a shot at a World Title, and I want to collect all the belts along the way. I'm here to box and no one's going to get in my way."