On October 26, 2018, Christian Daghio stepped into the ring for the last time at Rangsit Stadium in Bangkok where he would be facing the Thai Don Parueang for the vacant WBC Asia Silver Light Heavyweight title.
The preparation for this title fight was arduous, and as every boxer knows, filled with effort and sweat. Nevertheless, Christian came into the match in great form. He was already mostly in shape, so he didn't need to cut much to make weight. His strength and determination were obvious both during his preparation and on the day of his match.
His Last Fight
The tension one feels before a fight is a trial that every boxer must face. Furthermore one must be mentally prepared to go the distance of 12 rounds of fighting. Nevertheless, after the gong sounds, your only thoughts are how to defeat the opponent in front of you. The first three rounds were relentless, with heavy blows being traded right off the bat. Christian fought those rounds as always, never taking a step back. He focused on punishing his opponent's body, while his adversary aimed for Christian's head. The fighters traded blows almost equally each round, going into the 10th, 11th… until the 12th and final round. Coming into the final round, Christian was able to eke out an advantage of 2 points after nearly a dozen rounds of nonstop boxing.
Twenty seconds until the final bell, Christian fell to the ground, struck by a sudden cerebral haemorrhage, possibly due to the incredible number of matches he faced in his long career. After all, it would take five professional fighters to reach the sheer quantity of his matches: 190 Muay Thai fights, 35 boxing matches (only 11 appears on boxrec.com), and 5 in MMA. Christian was immediately rushed to the hospital and operated in record time, but unfortunately left us in November 2nd. He lost his life in that last round, but his legacy has left him a champion in life.
On November 5, 2018, Christian was buried in the cemetery of the Catholic Church of St. Nikolaus di Pattaya, where a lot of people took part in the funeral to give him their final farewell.
The beginnings of Christian Daghio's career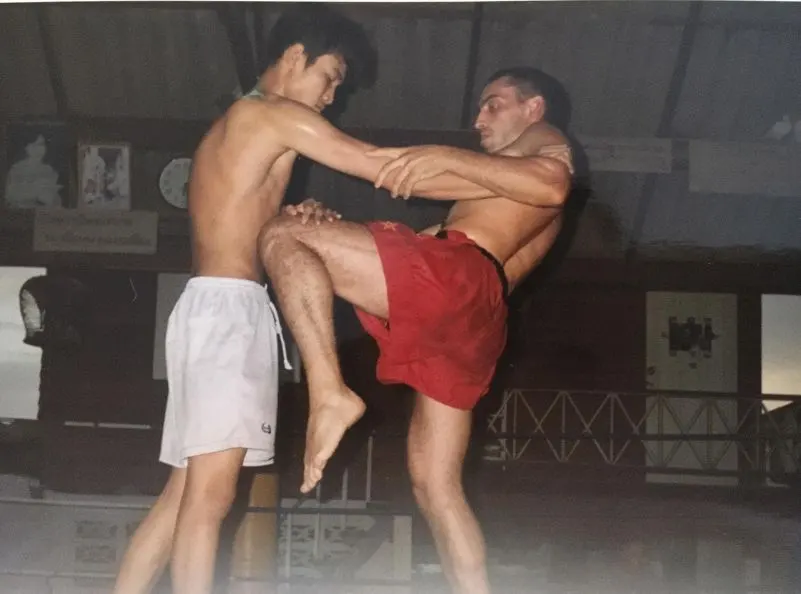 More than 25 years ago, Christian moved to Thailand to learn and perfect the art of fighting Muay Thai. He was passionate about Muay Thai but wanted to find a place to properly pursue this passion. After a 6 month in Belarus, he found his home in Pattaya.
His life in Pattaya consisted solely of training and fighting. It wasn't an easy life, but Christian accepted it, as this was what he was searching for. Twenty years ago living in Thailand in a Muay Thai camp is not like today: the language spoken was only Thai, the food was just pure Thai food, the cleaning was absent (he trained among the hens!!) and the non-existence of internet made the conditions even harder.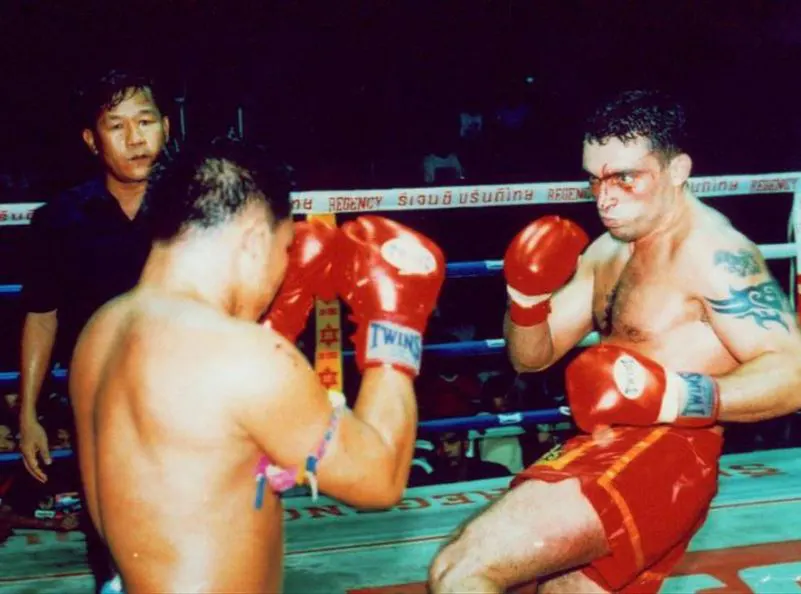 It was because of this mettle that Christian showed, which allowed the local fighting community to accept him as one of them – allowing Christian to be integrated into the local culture and understand the habits, customs, and even secrets of one of the most beautiful martial arts that exist.
During his twenty-year career, Christian has various important victories, but has never stood on a pedestal. He has always been a humble person who would help others in any way possible. He dedicated his purses from his victories to charity, both here at the orphanage in Pattaya and in Italy, after the terrible earthquake in Emilia. And how to not mention the charity fight against the very strong Somlak after the Tsunami in Pukhet!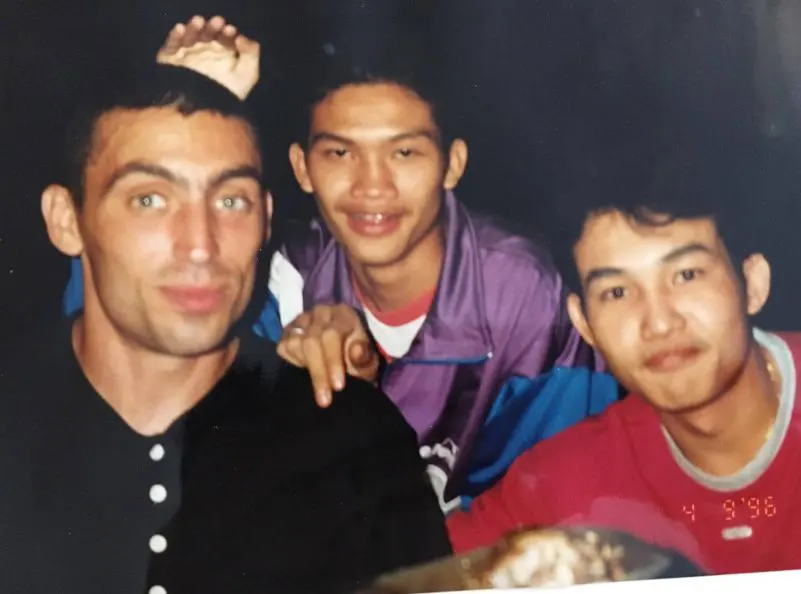 These The Titles Won By Christian Daghio In His Career
2000 European Champion of Muay Thai Pro
2001 World Champion of Muay Thai WMO
2002 First Italian to fight and win at the famous Lumpini stadium in Bangkok
2003 First Italian to fight at the "King's Cup of Thailand" in Bangkok
2003 Muay Thai champion of the Pattaya stadium Thepprasit
2004 Muay Thai champion of the Pattaya stadium Thepprasit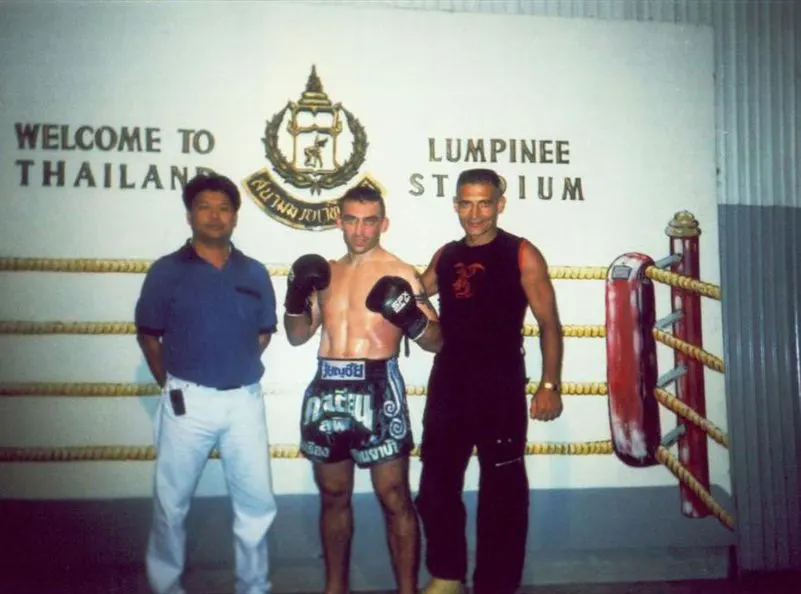 2005 Muay Thai champion of the Fairtex Stadium in Pattaya
2007 Muay Thai champion of Thailand (first European to win this competition)
2008 Muay Thai Champion of the Fairtex Stadium in Pattaya
2009 Asian Champion WAKO Thailand
2010 Muay Thai champion of the Fairtex Stadium in Pattaya
2010 World Champion of Muay Thai WMA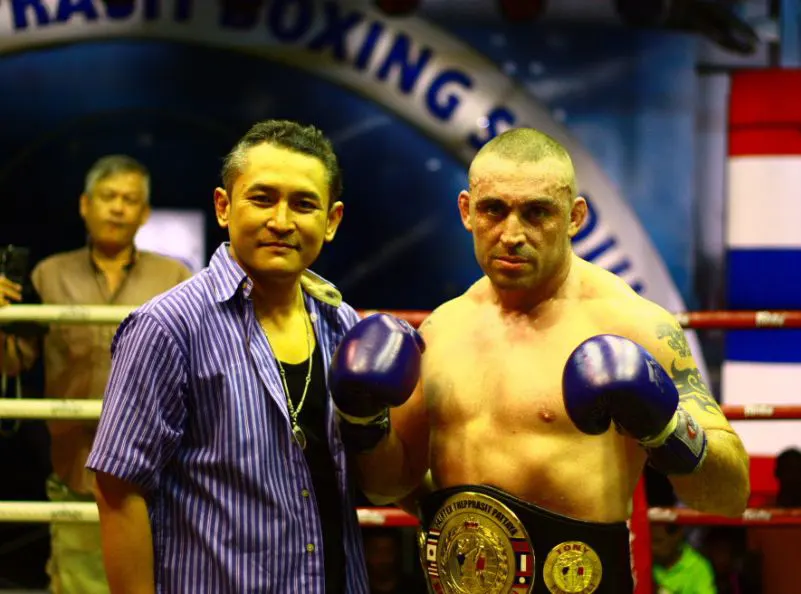 2011 World Champion of Muay Thai WMF
2012 World Champion of Muay Thai WTKA
2012 Muay Thai World Champion WMF PRO
2014 Muay Thai champion of the Windy Stadium of Pattaya
2016 Muay Thai World Champion WKL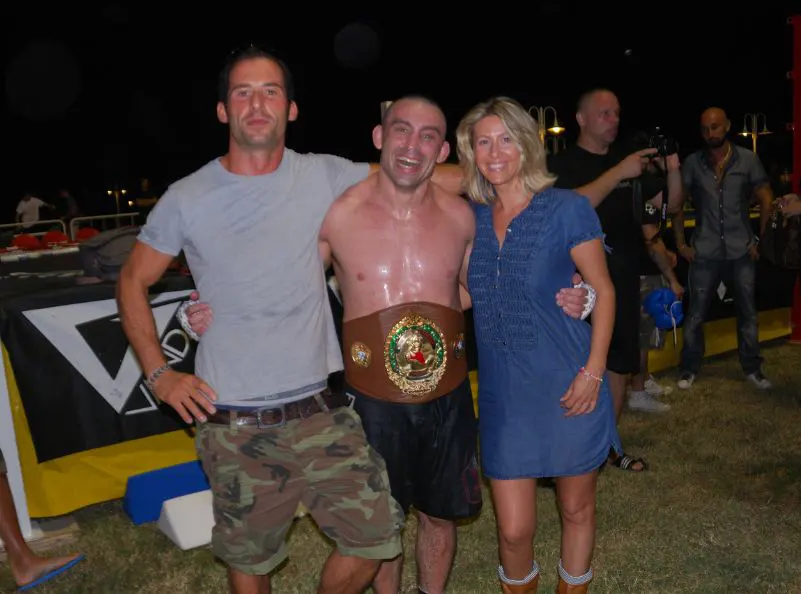 While in his Boxing career he won the belt:
WBA PABA Asia (2015)
ABF (2015)
WBF (2017)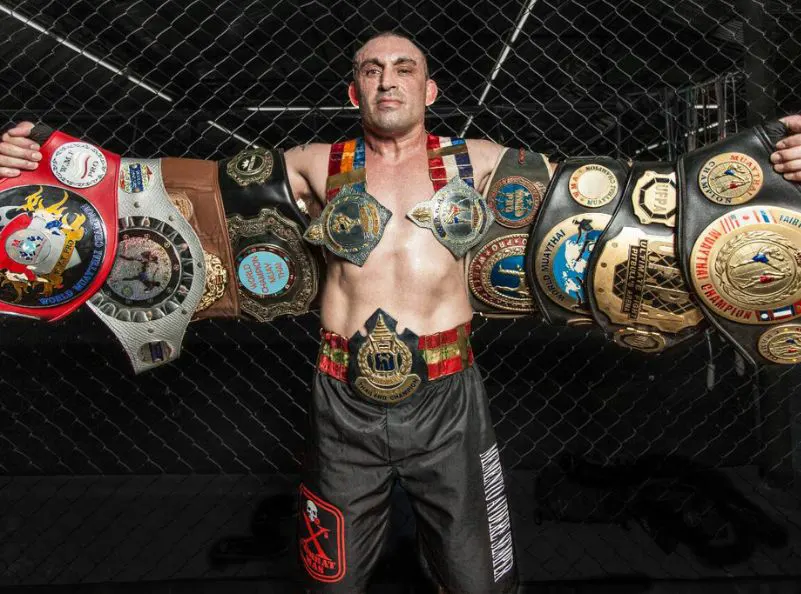 Christian won the fight with history and left us a great legacy
Through his expertise and experience in Muay Thai and in Thai fighting camps, Christian wanted to give the "farang" the opportunity to try their hand at this discipline and in 2004 he founded the Kombat Group. His dream was to create a gym where others could meet the local Muay Thai experts and the attention to the guests branded "Italian-style".
Christian's mind developed a winning idea: create a team under his direction that would teach all those who wanted to learn, without discrimination, the art of Muay Thai, in a perfect mix between the classic Thai methods and the innovation brought by this immense champion.
Christian was not born as a champion: he had created himself, with so much effort and dedication. This had always been one of the reasons why he opened his door to everyone, pro and not, but he had always paid more attention to those who showed the willingness to learn, despite not having the natural skills of others.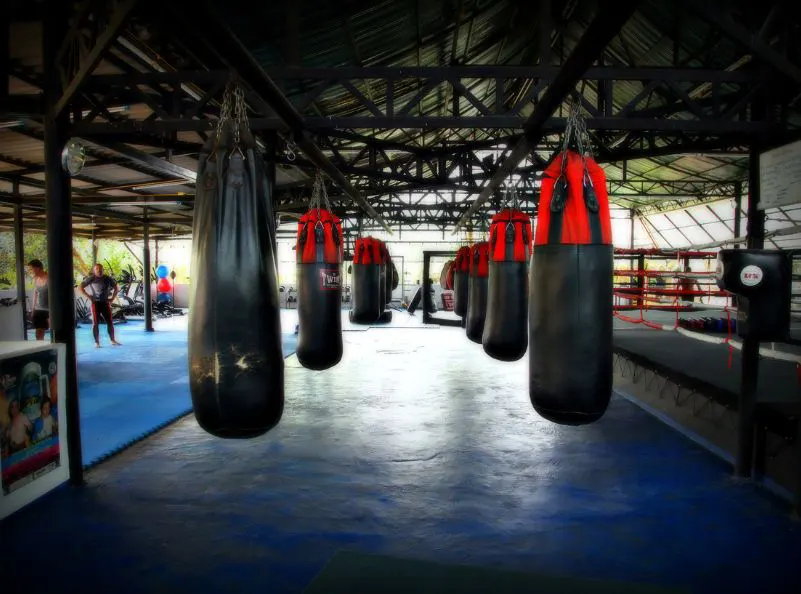 Where did Christian's idea find its roots?
Christian has always been a fighter, all his life. And as such always struggling with diets, weight loss and weight cutting for the fights. But Christian was also an attentive observer: during the first years, he realized how much the martial arts, like Muay Thai and Boxing, would help ordinary people, not athletes, to lose weight, without great efforts.
People who approached this sport for the first time, who was passionate about it and who basically enjoyed practising it, also had a positive side effect: they lost body fat.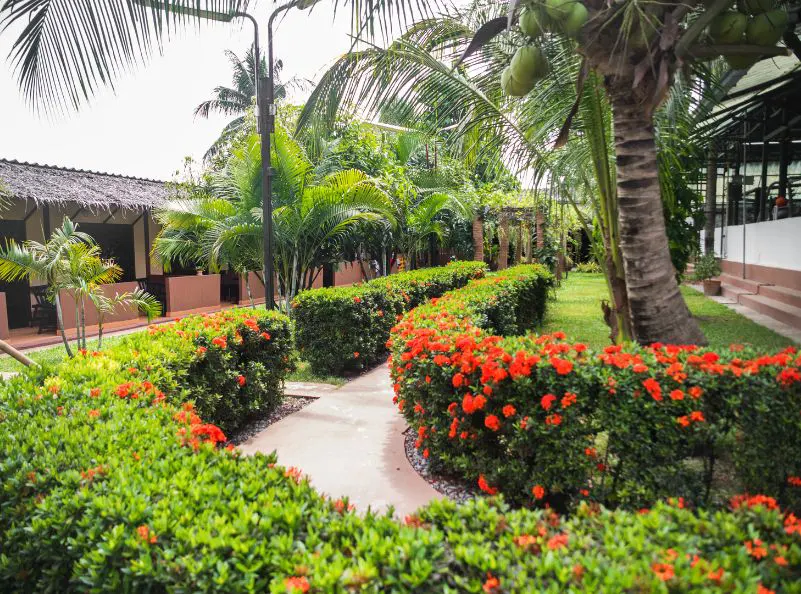 Thus Christian began creating a special program for weight loss, perfect for the individuals who found it difficult to get into shape. Through a combination of workouts, relaxation, healthy food, and emotional support, he created a program that made weight loss easy. Furthermore, the training program is held in a tropical environment, that make detox a natural and daily process. Nothing better than sweating to get rid of toxins!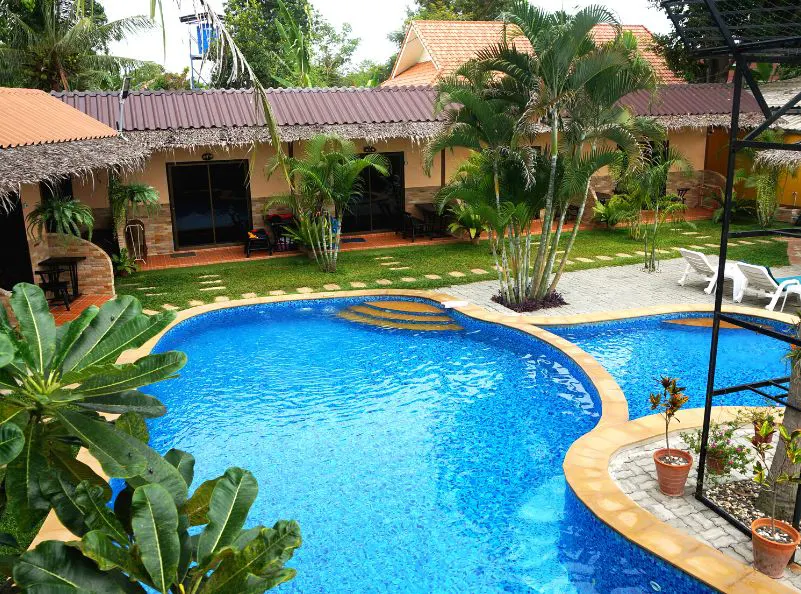 The result of Christian's teachings
The result of these last 14 years of work by Christian is an exceptional team of coaches, managers and collaborators who have absorbed the ideas and line of work of this great, but at the same time humble, champion and who continue to this day to carry on his teachings.
We will never tire of repeating that thanks to his vision he transformed a small Muay Thai camp in the city center into a huge weight loss and wellness resort, able today to provide all the necessary means for those who want to get back into shape, both physically and mentally. In addition to creating an oasis for all Muay Thai and Boxing fans!
If you come to Kombat Group today, you feel a strong energy and desire to achieve your goals: this is the spirit of Christian, which is reflected intact in the current resort's management, in all those people who have worked for years in close contact with him and now with joy and passion will continue to develop his dream: to create a place where you can achieve your goals, with a team of coaches, staff and consultants always available. All immersed in the comfort of a 5-star resort, where you can relax and focus on your well-being.
VENI, VIDI, VICI