My name is Paolo. Over the last 10 years I tried several ways to lose weight and after so many failed attempts today I am finally succeeding in my purpose.
Thanks to the Weight Loss Program at Kombat Group I could manage to lose 49 kg to my surprise.
I am an Executive Chef working in cruise Ships.
Gaining weight in my professional environment is as easy as breeze, you need to constantly deal with challenges related to budget, man power, food administration, menus, provisions etc. working sometimes under a stressful atmosphere for over 12-13 hours a day, of course Good Food to praise or to cheer-up yourself is constantly available, it is free……and just few steps away.
Needles to say in this scenario, if you lose focus before-you-know you can find yourself weighting over 140 kg. Well, this is exactly what happened to me.
In addition to this, my blood test for the first time was not "spotless" showing LDL cholesterol and sugar values over the acceptable levels. For this reasons and because I was not quite feeling to be in good shape (as you might notice from the pictures) I decided it was time to do something for it.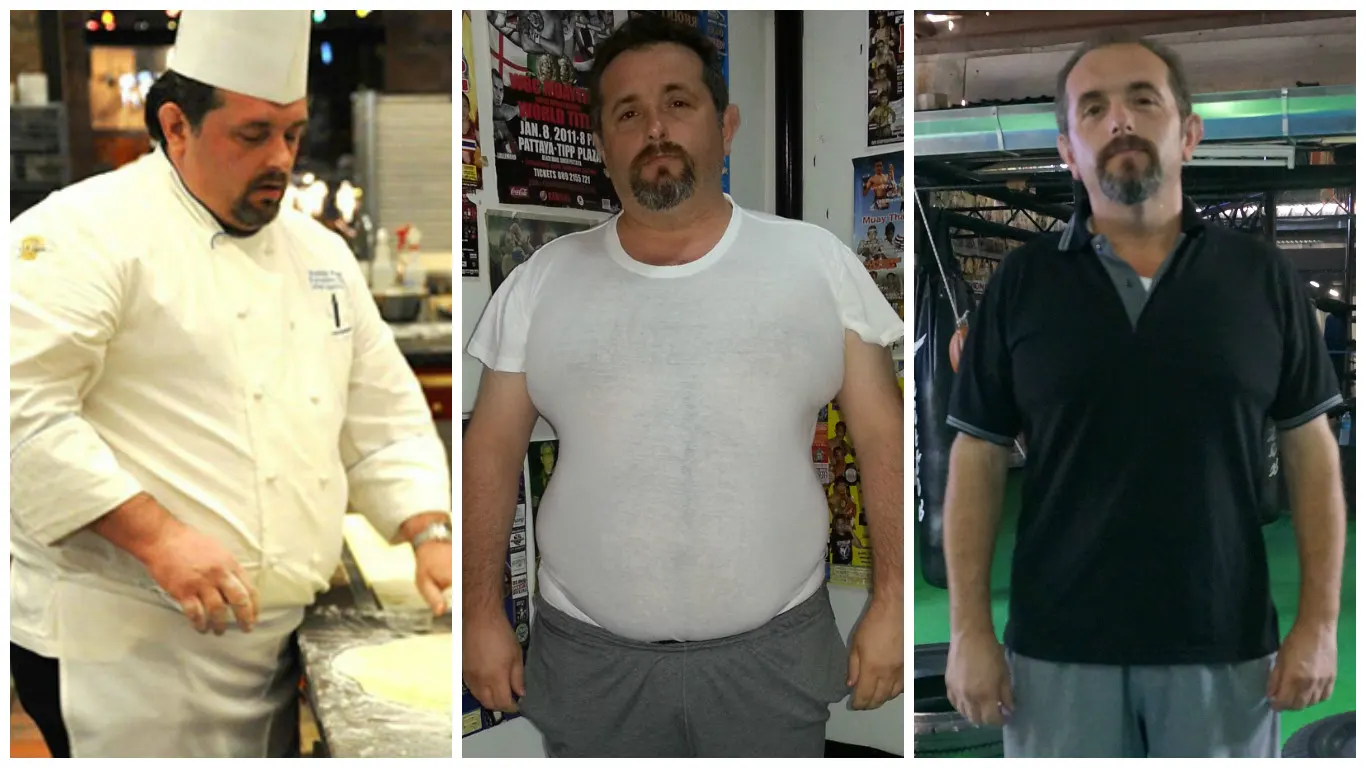 For personal family reasons I had to take some time off my work and during this time I managed to combine my fitness program, trying to put myself back to an acceptable health condition.
I immediately excluded the option of doing this in my hometown because there would have been too many distractions from my personal life like family, friends etc. and I was absolutely determined this had to be the turnaround experience of my life, not just "something else I tried".
Searching the WEB for some weight loss program in Thailand I easily found this camp in Pattaya and I instantly realized it suited my needs. Before talking about my experience at the Camp I would like to share some suggestions about what you absolutely need to bring from home, in case you decide to undertake this Trip. I am talking about something you will not find in Pattaya or anywhere else.
While you are preparing your luggage, along with your clothes I suggest you don't forget to carry with you the "positive approach, your target and the real motivation" and keep them ALWAYS in sight. It might sound "little talk" already heard so many times and I agree it may be a little cliché but believe me, it is all about it, because no matter how helpful the instructors and the management can be, if you lose track, you dismiss the reason you are there, you stop caring about the money and the time you are spending for this project and you let the bad thoughts go through, then NO help can do for you.
When I said keep them ALWAYS in sight I mean physically. I carried with me a pair of jeans I used to wear "centuries ago" before getting fat, Well, being able to get back in these jeans was MY GOAL so I hanged them right in front of my bed staring at me like a ruthless mentor. In a plain poster paper sheet I wrote-down with a marker IN CAPITAL LETTERS 4 points of the reasons why this process had to be successfully accomplished.
You are 45 years old, you will not get any younger but if you take good care of yourself you might still have MANY good years to live
Think how wonderful and the feeling of freedom you will sense when you'll be able to enter any shopping mall, choose some cloth you would like to wear and JUST ASK FOR YOUR SIZE not having the frustration of hearing "sorry Sir we don't have your size in our stock"
You invested ……..Euro on this Adventure, these are not peanuts, it took you ……….. months to put this capital together you certainly don't want to let it go down-the-drain, make sure you bring home what you are paying for
Think of the time you are taking in order to put yourself together, your family, all your friends, your colleagues and all the people you know are expecting to see coming home a healthy man in good shape. You will not disappoint the expectations of the people you care about and you will show them that you are a winner.
Of course this list could go on-and-on for many pages digging deeper in my private life but I preferred to keep it BASIC, fast and easy to read every time I had "chocolate cookies and cheeseburger" feelings. I posted this list on the back of the door in my room "ALWAYS IN SIGHT". Of course in your case there might be completely different reasons, whatever works for you. All the above helped me several times, especially during some nights…..you know, the nights you just can't sleep, you keep rolling on your bed and at a certain point you somehow convince yourself that the only solution to this problem is the "7-Eleven" mini-market just around the corner and open 24/7.
I well remember how these times I used to forget ALL my goals and motivations replacing them by an easier "OK, it's just for one time, what can be the damage in the long run?". Then I switched on the light, got dressed and just before stepping out of the room the poster was "shouting loud" the 4 points reminding me of what could be the damage in the long run and of what I had to lose. Well, this worked most of the times….not all the times, nobody is perfect I am certainly not the exception. Anyway, I tried to constantly keep myself together, Focus on how great this thing was for myself and how different my life would have been from now on. And especially I tried not to go insane, reminding myself that the jeans I hanged in front of my bed are not staring at me and the 4 points list posted on the door is not actually shouting at me, it has been useful to figure it as a mentor but at the end it is just a piece of paper.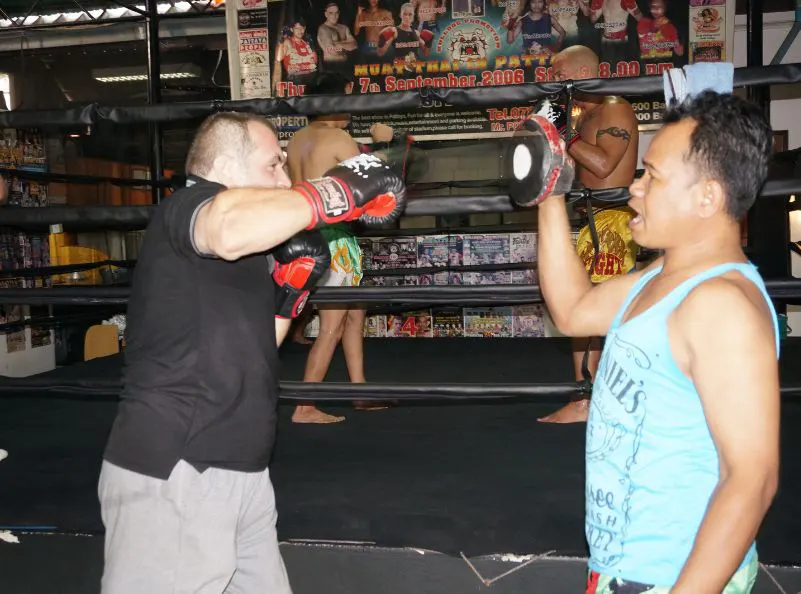 Life at the camp
Living here you feel like being home, you meet and hangout with fellows that fully understand what you are going through because they are most likely here for the very same reason.
From the first day until I left I received help and support for my weight loss program from the wonderful staff, the owner family and also from all the guests of the Camp with whom I shared this Adventure.
Accommodation
In Thailand the weather can be very harsh, in the Summer it reaches 35-40 Celsius but you can feel it even higher because of the high humidity rate and during the raining season it rains almost every day.
Trust me, when you are done after hours sweating in the gym you just want to have a shower and lay on Your bed instead of having to deal with long walks under the tropical Thai Sun to Reach Your room.
At least for the first part of this journey I wanted to be able to rest just few steps away from the gym, on this purpose I purchased a full package which includes trainings, meals and room at the camp.
The room was well-designed, functional and comfortable, nothing I needed was missing, private bathroom, flat screen Cable TV, full range High speed Wi-Fi, AC and housekeeping service.
Being comfortable during My rest time significantly helped me to devote all the required energy to fulfill the intense and demanding daily workout. For the last part of this adventure I got used to the hot and steamy Thai weather so I decided to
move in a room-rent Hotel close to the camp.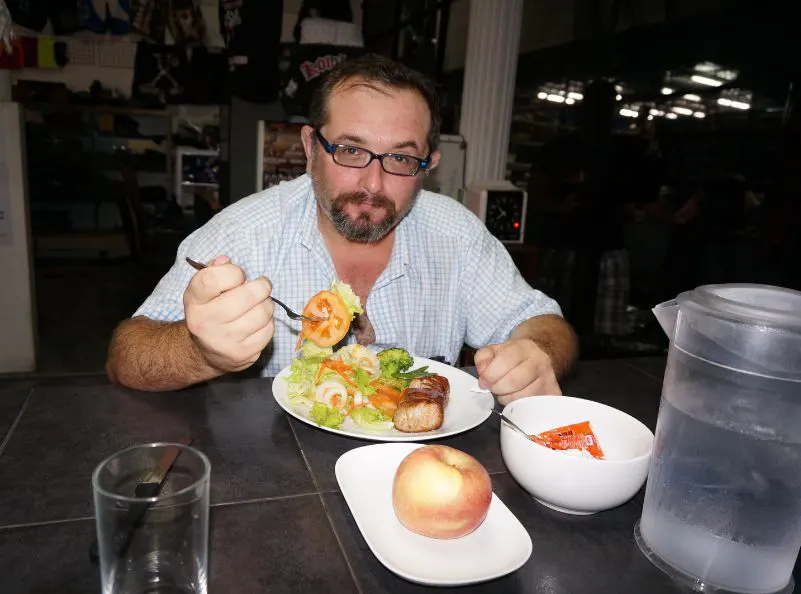 The Meals
The dishes looked just like the pictures you see in the web site, well presented and tasted good, every single meal was entirely organized by Nat from the management family and personally prepared by Chef Lee (for breakfast and Lunch) and by Chef Ann for the dinner.
Of course being on fat loss program you cannot expect Lasagna, French fries, Prime rib with baked potatoes, Tiramisu…….or any other High Carbohydrates and high fat dishes.
After all, as Barbara (the fat loss program coordinator) kept reminding me, 80% of any fat loss process is about the food and only 20% is related to workout.
Still the menu cycle was not boring at all featuring a varied selection especially for the dinner meals, the portions were unexpectedly abundant and I was never refused for an extra piece of grilled chicken breast or one more portion of soup.
Two thumbs up for food and Chefs at the Camp.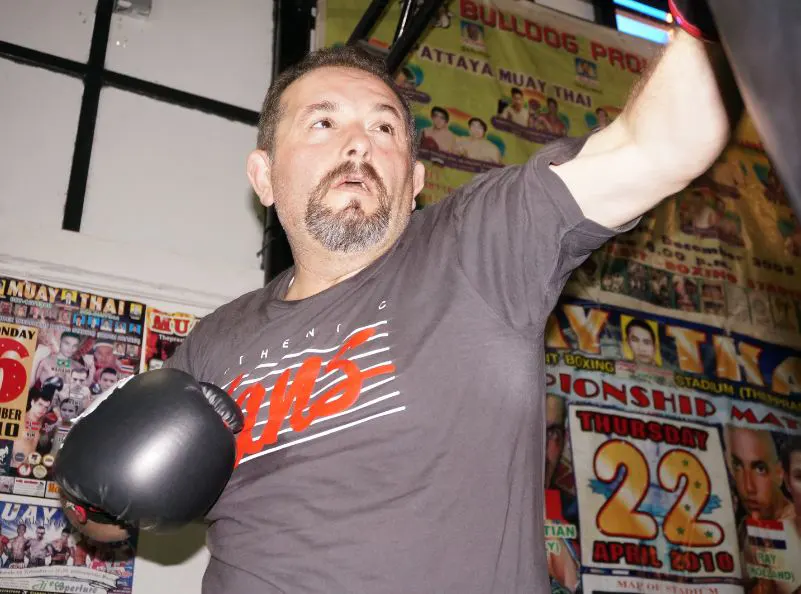 The Workout
For the first approach I found the fat loss program gym activities quite intense (at least from my point of view), it became easier after few weeks when I got used to the hard work and Thai climate.
The day begins at 9:00 am for one hour of Muay Thai, then 40 minutes of functional training and for a sweet morning ending I chose to sweat for one more hour of Cardio on the Elliptical or the Treadmill. The morning was over at about 11:50 am.
The first hours of the afternoon are way too hot to even think about stepping out of your room, for this reason the training starts at 4:00 pm with 40 minutes of functional training followed by Muay Thai until 7:00 pm.
Because of some arthritis problems I have on my right hip I am not able to use my right leg to properly kick during Muay Thai training, for this reason I decided along with the Camp management to replace the evening Muay Thai technique by one hour of elliptical training.
At alternate days I had scheduled one hour of Krav Maga from 7:00 pm to 8:00. I was sometimes skipping this last hour, though Krav Maga is a great martial art and the instructor is skilled, funny and shows a lot of passion during his training sessions. I was just too exhausted.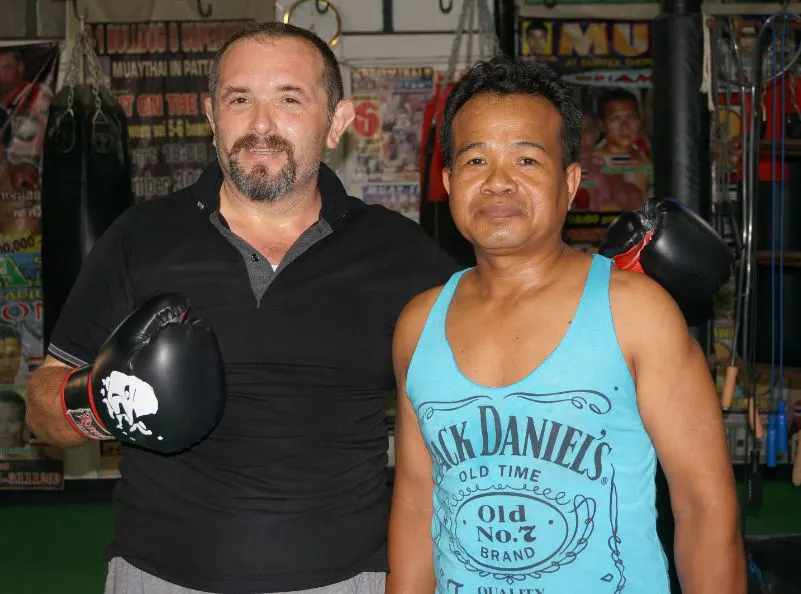 The Trainers
Before embarking for this voyage, what concerned me the most was the arthritis in my right hip. I was in pain after running few hundred meters and every time I was standing up from a chair.
I wandered whether this difficulty would have obstruct me from reaching my goals. I decided to launch myself on this journey anyway when Christian (the owner of the Kombat Group Camp) told me not to worry about it and ensured me there would have been accurate and personalized training sessions.
And so it was. All the martial arts trainers understood my problem from the very first day, they assigned me exercises paying special attention to avoid tough impacts and vibrations in my hip.
Especially Barbara during the functional training she encouraged me (sometimes forced me) to try exercises I never thought I would be able to do and she seemed also to understand exactly which workout I had to avoid.
As I already mentioned, though the trainers were motivating and encouraged me to find higher limits every day, the greatest part still had to come from myself, this time my willing to accomplish this project was "stainless" like it had never been before.
How I managed to make it
Pattaya is a wonderful tourist attraction and it is quite known for its attractive and intense night activities. In order to reach my goals I immediately realized I had to stay away from this "have fun and lose yourself" way of life.
This trip had to be a work-work-work business, not a vacation, remember this kind of approach if you decide to take part of this program, while I was there I noticed some guests arriving at the camp with the best intentions but as soon as they
scented the "Pattaya Night Call" they lost interest and completely disregarded the Real reason why they undertook this trip, don't let this happen to you.
If you enter a pub with some friends and order a beer you will think "OK it's just a beer what is the big deal", well I have been through it and the big deal is not the beer itself but is the fact that you are conscious that you have just broken a rule,
this conciseness will bring more negative thoughts like "OK for today I broke the rules, so be it, Now I will keep stuffing-my-face with junk food until I am glutted, tomorrow I will be back on track".
Believe me, as much as you are now sure this will not happen to you and you will be able to have a better control of yourself, there is a great chance you might be wrong.
Just postpone this beer and all the junk food to Sunday, the day you are allowed to a free meal, the only day of the week you can "Go Nuts with food".
What helped me a lot especially during the first 3 month have been hanging with friends from the camp, more than ever when walking around Pattaya, they know you are on a fat loss program and when you sit in a pub and you just order a
plain bottle of water instead of something stronger they will not look at you like you are an alien. It's just easier not to fall in temptations when you watch on each other.
Another tip I feel like sharing with you is to avoid to flatly negate yourself a bad habit, it is way more productive to replace bad habits with healthier ones. To give you an example, one day I bought a little pack of cookies (4 pieces portion)
thinking that it was OK for one time to have a nice treat to enjoy with my coffee, three days later this little pack of cookies became two and what was supposed to be a onetime deal it became an everyday habit until I realized it was time to stop
it. For 3 days in a row I negated myself these cookies but the fourth day I bought 5 of these cookie packs and ate them all…….the bad habit was back. So I decided to replace it (instead of negate it) with fresh coconut water.
As of that day I stopped having cookies and enjoyed the fresh coconut instead.
One last thing, Do not hesitate to walk the extra mile, if your health conditions let you workout five hours a day you might consider to go for an extra one, maybe one hour of cardio on the elliptic or treadmill, it is not in the weight loss program
and nobody will tell you that you have to do it, I just made it a healthy daily habit, and my body still thanks me for this.
Speaking about body-talk, during my stay in the Kombat camp I heard several times Barbara telling me "listen to your body Paolo, there are days he agrees to do extra work and days he tells you to just rest and do nothing", well I am not sure
whether me and my body are speaking the same language, I never heard him giving an OK TO GO for extra work, I always had to beg my body and convince him to leave the air conditioned room and go sweating over Jumping jacks, crunches,
lunges and pushups. Maybe because I am just an Incurable lazy man.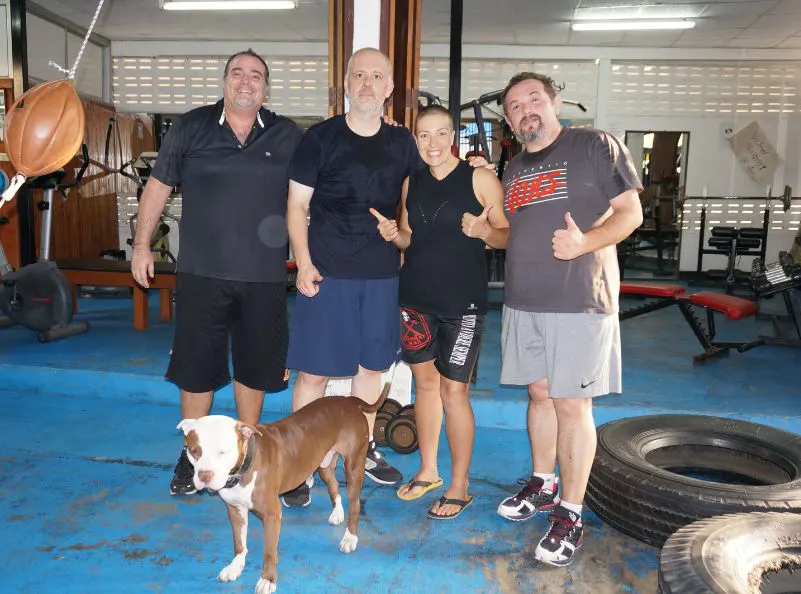 CONCLUSIONS
Now when I look at myself in the mirror I have the weird feeling of having gone 20 years back in time. I am very happy about the health conditions I reached so far, it is gone far beyond my most optimistic expectations, in such short time.
To explain this In a sentence, I feel like I have been given another chance. Now I will be on my own, It is my responsibility to maintain the same standards and keep improving, I will not waste this "second chance".
Do you want to embark in a journey that will change your life? Contact us!