My name is Ludovic Marchand, I am a professional bodybuilder in a wheelchair since a car accident in 1983.
Recently I got involved with WheeledWarriors on Facebook, so I decided to train for boxing and MMA UFC, as the sport is growing for us in a wheelchair, soon hopefully it will be at the Paralympics.
I went around Pattaya looking for a place to train. I also look at the internet to find some addresses. After visiting other gyms I went to Kombat Group.
There I met the owner, a world champion from Italy, Christian. I told him what were my goals, at first he looked surprised but he showed me around and told me that he will build some ramps to facilitate the access as there were some stairs.
I was very pleased and surprised to see his intentions. I went back the next day to start training, it was new for me and his staff as nobody in a wheelchair trained before.
Christian had already made the ramps, I couldn't believe it. I had my first workout it was great but very difficult as I am a bodybuilder.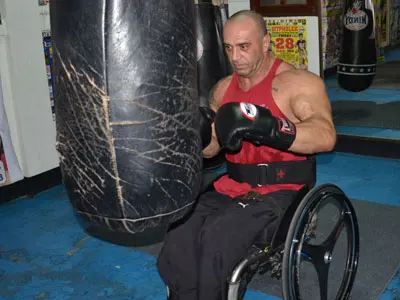 The gym is awesome, 3 rings and a cage and some weight lifting equipments. I was very pleased to see how nice the owner Christian was.
In the other gyms everybody looked at me like I was crazy, some laughing to see a guy in a wheelchair who wants boxing, I didn't feel comfortable but at Kombat I felt great.
I really went to the right place, first because nobody looked at me weird and second because a lot of very good fighters are there.
I recommend this place for anyone very serious about training.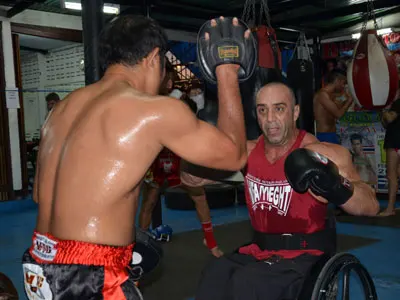 Also there is a kitchen there if you need to eat which is very convenient after a good workout.
The Thai boxers who teach there are very professional and some great champion too.
At first when you get there 2 huge pitbulls are waiting for you, sincerely I was a little scared but in fact they are so sweet and part of the gym, walking around with tires and rope or stolen sock.
I was pleased only after looking at the website but once you are there it is even better. The ambiance is great between athletes from around the world.
I am looking forward to get the best training now in boxing but later in MMA wheelchair. I am there to win, nothing less.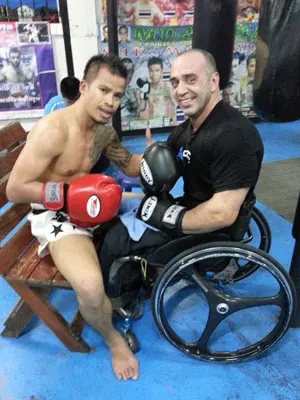 Ludovic Marchand Paralympic Powerlifter and Bodybuilder, MMA and Western Boxing Course at Kombat Group
My bio at http://www.wheelchairbodybuilding.com/Ludovic_Marchand
Powerlifting
Paralympic games in Barcelona, Spain, 1992.
Russia Championship 1st place, Sverdlovsk, Siberia, 1992.
Rank 3rd World Class Athlete, 1991.
Record holder and France champion from 1991 to 1994.
Bodybuilding
4th at the first Wheelchair Pro show in Houston 2011 and 2012.
IFBB Pro (wheelchair) since 2000.
1st NPC Overall champion.
NPC Overall champion 1994, 1995, 2000.
NPC middleweight champion 1996.
Mr Univers ABA 1994,1995,1996.
Mr USA ABA 1993.
Mr. San Diego 1993.
Mr. America 1993.
Mr. International 1993.
Mr. San Francisco ABA 1993.
Printworks
Ironman, Flex Magazine, Muscular Development, USA.
Musclemag, Canada.
Le Monde du Muscle, Musclemag, France.
Bodymaker, Japan.
Visalia News, Ability Magazine, California, USA.
SODEV, France.
NCEP, Las Vegas News, Nevada, USA.
Florida Muscle News, Florida, USA.
Toyota Commercial Print, Venice, CA, USA.
FOX 5 KVVUTV, Las Vegas, Nevada, USA.
KLAS 8, Las Vegas, USA.
Frank Zane, Mr Univers, Fitness TV show, Los Angeles, USA.
Work
Most famous Gold's Gym Venice, personal trainer, 1993 to 1996.
Gold's Gym Visalia, CA, trainer supervisor, 1996 to 1997.
Gold's Gym Las Vegas, NV, private trainer, 1997 to 1998.
Sport "Q" Club, Las Vegas, NV, 1997 to 1998.
Gold's Gym Venice and Gold's Gym North Hollywood 1998 to 2000.
Sport Club LA, Los Angeles, 2000 to 2001.
24 Hours Fitness, Santa Monica, 2000 to 2004.
Others
Tronc Commun, BEES, Bachelor Degree, France.
ISSA certified personal trainer.
Los Angeles Marathon 1997.
AA degree in Fashion Design and Fashion Illustration, FIDM Los Angeles.
BA in Art Emphasis: Painting, Fresno State University, CA.
French and English speaking.
Motivational speaker for schools, hospitals, private company, etc…