Gobind (Aka "John") 6 days at Kombat, feeling transformed!
Having been a regular corporate person and that too in the IT industry sitting behind a computer for more than 10 – 12 hrs, a day over the past couple of year has definitely put my body slightly out of shape and fitness. So wanted to get a break from work but rather than going to a weekend beach resort and relax I opted to do something different and well something more rewarding for myself.
Came across the Kombat Group and found their site to be very informative and they had different choices of program and different duration. Since I was only going to be here for a week so this was perfect. Got in touch with them to recommend me what course I should take based on what I would like to achieve. What better way to preserve the culture and learn from the land of its origins so I opted for the Muay Thai course (as I always was interested in the sport just never thought I would have the chance to get a go at it). So I recommended you get in touch with them for any questions etc. The team is quite responsive.
A quick bus ride from Bangkok to Pattaya was an easy one but I wasn't very sure where the exact location of the Kombat Group is and how far it was from the bus station. Hopped on a taxi motorbike and he took me through the streets which turned to alleys and then into an open field land. In short, it's a perfect getaway from the busy city life of Pattaya. It's' about 15-20 km from the main Pattaya so it's definitely the dedicated area to build your fitness and keep you focused. But there is a good walk to a close by Big C or 7/11. So if you need to get supplies it's within reach. So definitely suggest you to plan your travel to the camp or get them to come pick you up or something. If you are in for some adventures then I think you can print the google maps in Thai and do like I did get onto a motorbike or hop on to a taxi and get them to bring you here.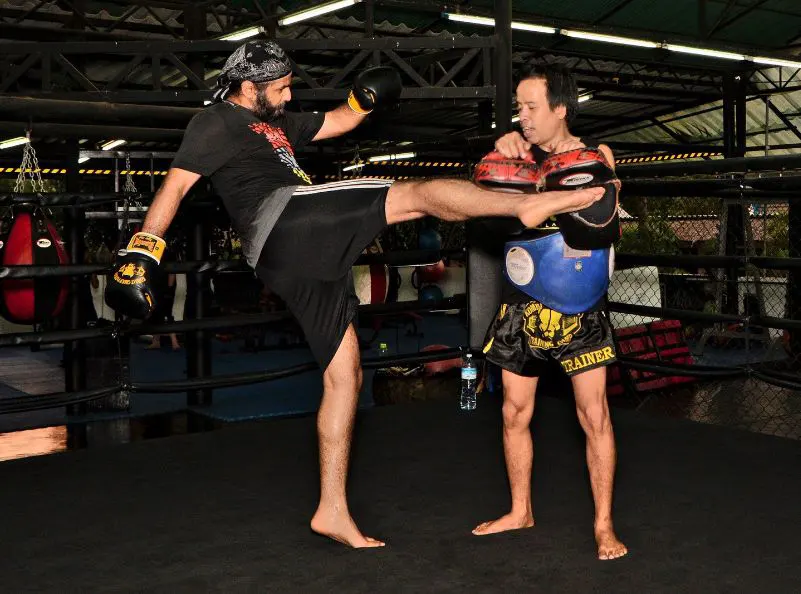 On arrival, I was shown around, quite a large compound with many rooms and since I wanted to also have some work to get done (I could not get rid of work, unfortunately) I went for a single room by the pool (sometimes you got to treat yourself). The room was very large with aircon, tv, DVD and a clean bathroom.
A typical day at the camp for me would start around 7:45 with a quick breakfast. They give you a couple of choices for your breakfast. I wanted to get the heavy breakfast but then would definitely throw up at the workout. Some people have breakfast after their morning workouts.This is then followed by morning session of warm up and depending on what you choose in terms of course. For me, Muay Thai would be hitting the bags, punches, kicks knees you name it followed by a good 1-1 coaching session in the ring. Then you had a couple of hours of rest which is followed by lunch. Usually Thai food lunch enough to keep your energy going and you have a couple of hours of rest and free time. This is then followed by your afternoon session, which is a bit longer than the mornings.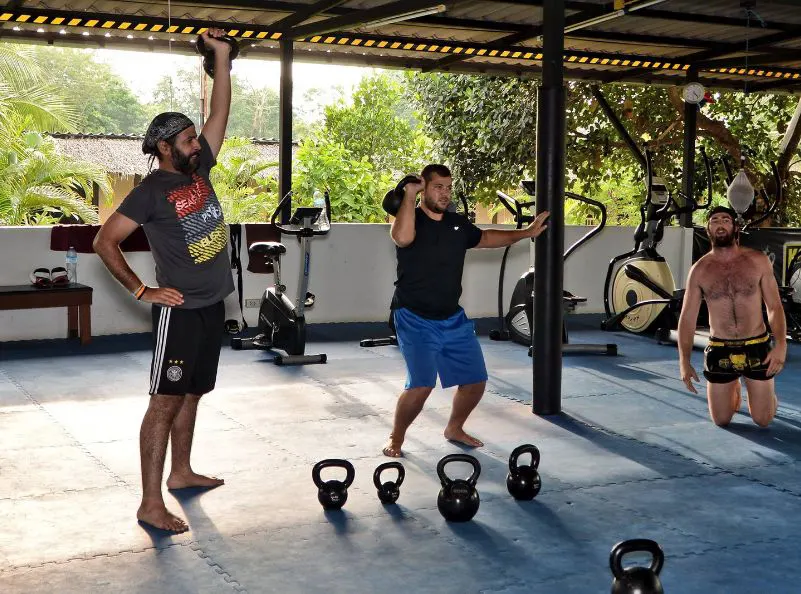 I was a little worried as having no experience in any kind of martial arts or boxing as the place really looked professional or a place you would call a '"professional building groups" where people would come to be trained fighters. To my surprise, they cater to all levels and for sure you do not need to compete with anyone but yourself and your "mind". They are multiple trainers so you would be guided throughout your workouts. Also, the other people who were already here range from beginners to intermediates to professional. The best part is that they all push and motivates you so it does definitely feel like a team. My salute and gratitude definitely go out to all those I had a chance of working out with: Dean, Ray, Jim, Ben, Myra, Victor, Nikki.
The training does definitely push you as it's meant to be. So if you are looking for a regular gym class in a fancy gym 40 mins workout then I am not sure this would be a place for you. But if you looking for a place where you can learn some martial arts and also build your fitness of mind and body then Kombat Group would be the place. You will be surprised how much your body can actually do. (I remember doing almost 300+ sit ups a day after a couple of days workout compared to 0 in the last couple of years). The trainers and the team will try to push you but not force you to a point of hurting yourself. So thanks to all the coaches for pushing me beyond what my mind thinks I'm capable off (P'Yai, P'Tee, P'Yut, P'Poo, Cristiano).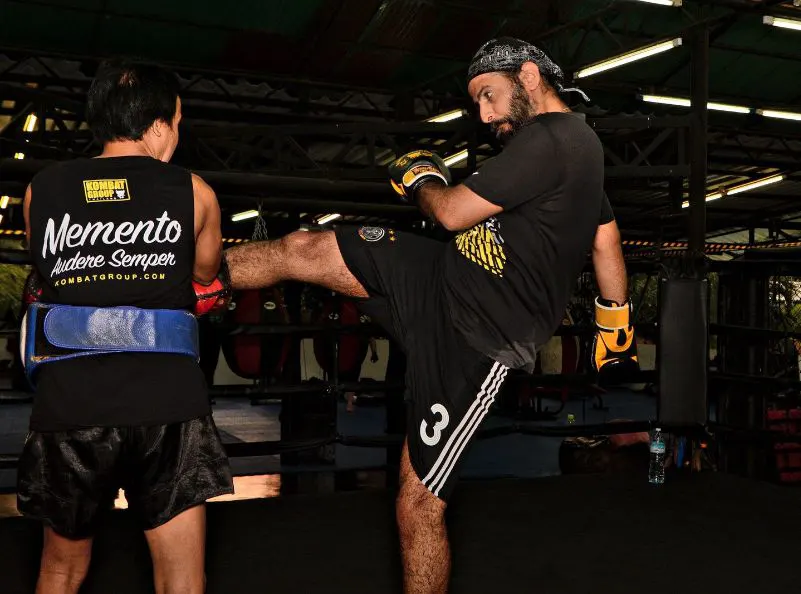 Also, you can also join different classes which you would never have the opportunity to join, like Krav maga (real survival skill and instincts).
Like they say, nothing like awesome food after a good workout. The dinner is no less than a fancy European restaurant. Honestly, the food is very good. (but I won't get into a food review here). You get fruits with every meal. At first, I had a hard time finishing my dinner, given my use to Thai food portions (small) while here they were serving European portions. But after a day or so of work out trust me your body needs it or more like wants it.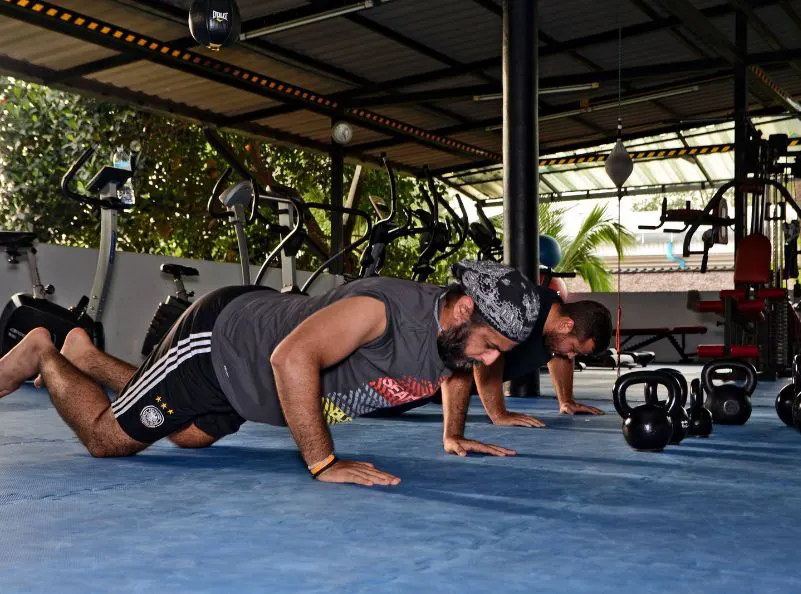 So for those considering, I would definitely recommend to get in touch with Kombat Group, ask them any doubts or question you may have, prepare yourself for truly working on yourself and you would realize the day has just passed by so it's definitely focused. And also though the location is far from town it's perfect to stay away from distraction as the idea is to get away from city life.
In short, this has been a good experience and you realize that your body is capable of much more. Though it was for a week and defiantly would not consider myself ready for a bout but definitely ready for a bout with my mind and hopefully I can keep up the fitness schedule and will definitely find an opportunity to come back for a longer period as practice makes perfect.
"It's the mind you need to control, your body can actually take it"

John
If Gobind's story inspired you, ask for information today!