I am Giovanni and I come from Catania, south of Italy. I've always been interested in martial arts and I recall a period of my life when I was doing it and my feelings were so great: I can face the day with more energy, fight the stress and the monotony of the "normal life". But then, for some reasons like my job, personal duties, new relationships….I wasn't been able to train anymore. And that transforms me into an unhealthy and unhappy guy.
I've been following Kombat Group Thailand on social media for 3.4 years and I saw their development as well as following Christian career, that has no needs for any comments!
I've reached a point in my life where I had to make a life-changing decision: going to Kombat Group and let them help me. With hindsight, it was the right decision to make!
Christian and his team had built a place that makes the people feel better. He and all the trainers want to let you understand that sport is the key to a happy and healthy life.
The resort is not close to the city, but not far as well: it has the right distance to enjoy the nigh-time sometimes, and keeps you very connected to your personal goal! If you are in a place with a lot of distraction very close to you, how easy it is to skip the training and go for a cocktail on the beach? This is not what happens here. You stay focused on reaching your goals (of course, if you have healthy goals!). For me, this place was the wisest decision I ever made.
They took my hand and they totally reset me! Unfortunately, for personal reasons, I had to shorten my time but I will come back for sure! In those 3 months (almost) that I spent with Christian, I made a great job following his leadership!
I followed the healthy diet they offer at the restaurant: I come from southern Italy where the quality of the food is a high priority, and I can really tell that all was delicious!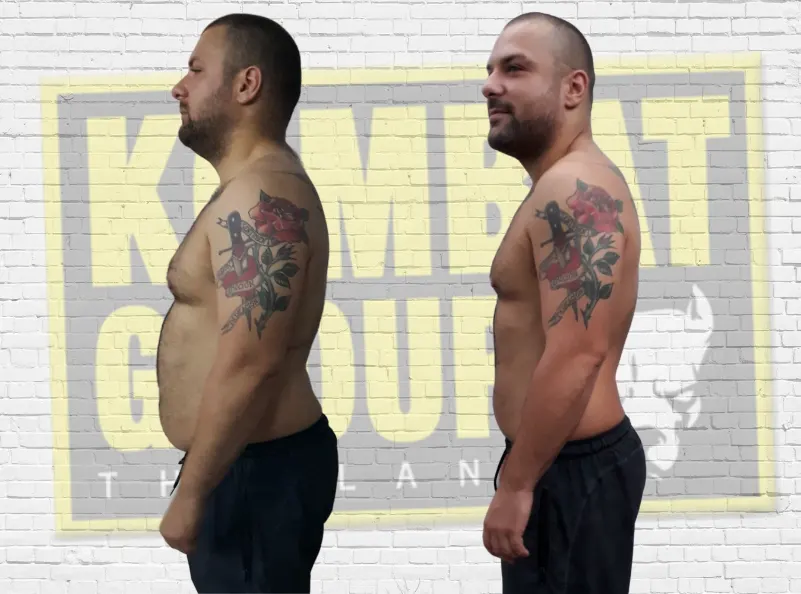 With healthy food, the weather, the training session (during which you sweat a lot!), the relaxation during all the stay and the fun you can have during the night out, a full detox is unavoidable!!!
Imagine how it can be waking up in the morning with birds singing, being all the day in a tropical garden with palm tree and coconut tree all around, enjoy the beautiful Thai sun in the swimming pool or at the beach (that is not far at all!) and chitchatting with people coming from all around the world!
The gym is also great, big and spacious and just 10 steps far from the rooms. But do not believe to be a pimp and having fun at Kombat Group. No way. If you want to have just a holiday, is plenty of other places to go to. Here you come to work on yourself, with a goal in your mind, big or small that it could be, and you work on it without excuses! You have everything you need: you just need to commit yourself to reach it!
When you live in Kombat Group with this mindset, you'll go back home full of experiences that had changed a bit yourself. You will miss the place, you will miss the people and you won't wait to come back!
Enroll in the same program Giovanni followed here below: