Six Month Transformation: I was at Kombat Group from September 2013 to March 2014 and have to say that it was the best decision of my life!
Years working in the Middle East in front of a computer with random periods of exercise left me a bit overweight so I finally decided to fully commit to changing my mindset and body. Christian Daghio and Barbara are fully committed to providing the best in fitness training and their staff at Kombat Group never failed to deliver.
Weight Loss Program
This training is intense but Barbara is pretty attuned to the limitations of everyone under her care.  She is a strict, dedicated coach who truly cares about your progress. Bottom line is that YOU WILL LOSE WEIGHT DESPITE YOURSELF!  Case in point; I missed about 25-30% of training due to my own extra-curricular activities but I still managed to lose about 10-12 Kilo (about 24lbs) and even after leaving the camp, I am still losing weight by applying what I learned from her and Christian's example.  You will do a LOT of cardio and abdominal exercises and while it will be painful in the beginning, will get better as you progress. What surprised me was how fast her program works; most of my fellow attendants began to see results as quickly as two weeks.
You will/can (up to you) work out with Barbara two times a day, five days a week; some people did both, some only did one time a day because you are also doing the Muay Thai training and Krav Maga. You will do an hour of Muay Thai training in the mornings followed by Barbara's routine (about 45 minutes) and in the afternoons, you will again do Barbara's training followed by two hours of Muay Thai THEN another hour of Krav Maga depending on the day.  Again, not everyone – including myself – were able to followed this schedule; some only did mornings, some only nights, but for those that did the results were spectacular so I highly recommend you stick with Barbara's schedule/routine!
After working so hard, you will find yourself VERY hungry!  The diet menu consists of a strict low-to-no carb menu of meat (chicken, fish, beef) with lots of fruit and vegetables three times a day – my favorite was the breakfast egg-white omelette with spinach (I really need to get that recipe).  Lunch was usually a large salad with either tuna or chicken but you could request whatever/whichever you wanted; just make sure to do so prior (like during breakfast). Dinner was where you usually got the whole fish, steak, or chicken with salad and a bowl of soup (my favorite was the pumpkin soup). All in all the food was delicious and the cooks there all very nice and happy people – not once did I see any of them having a bad day.
My suggestion is to really stick to their menu during the six days of the week that it is available.  You may be tempted to snack in between meals during your first few weeks but I found that my appetite and metabolism quickly became attuned to the point that my hunger was satisfied after each meal at the camp. Sundays the camp and kitchen is closed so we usually used that day to indulge ourselves before having to return to training.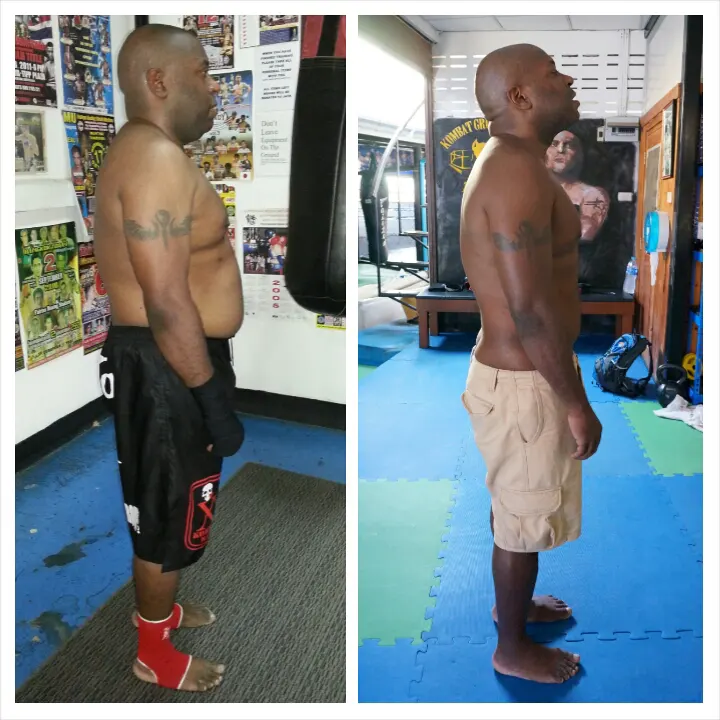 Life at the Camp
Well I didn't actually live at the village during my first few months there; I opted for the apartment by the beach.  The apartment I stayed in was located within a few minutes walk from the beach as advertised in Jomtien, about a ten minute bus ride from downtown Pattaya. Both Jomtien and Pattaya are the prime beachside communities of the area and you will find everything you need (groceries, bars, pharmacies, etc)  within walking distance. However, for those in the weight loss program, I highly recommend staying at the rooms offered at the camp. Thailand has a lot of food to offer someone trying to lose weight and I often found the temptations of the nearby restaurants too much to ignore.
After I moved to the camp, I was able to better discipline myself to only eat the camp meals and as a result, began to lose even more weight (as well as save money).  Depending on whenever you read this, it might not be that much of a problem; for those attending after April, 2014, there will be a new camp completed in a more remote area that will enable attendees to focus more on exercise, diet, and fitness.
Bring a LOT of exercise clothes!  You will SWEAT! However the camp cleaning staff there will do your laundry for a pretty reasonable price and they alway got my cleaning back within 24 hours. The camp also sells exercise clothes, boxing gloves, etc, so if you don't have any, you can buy some after you get there.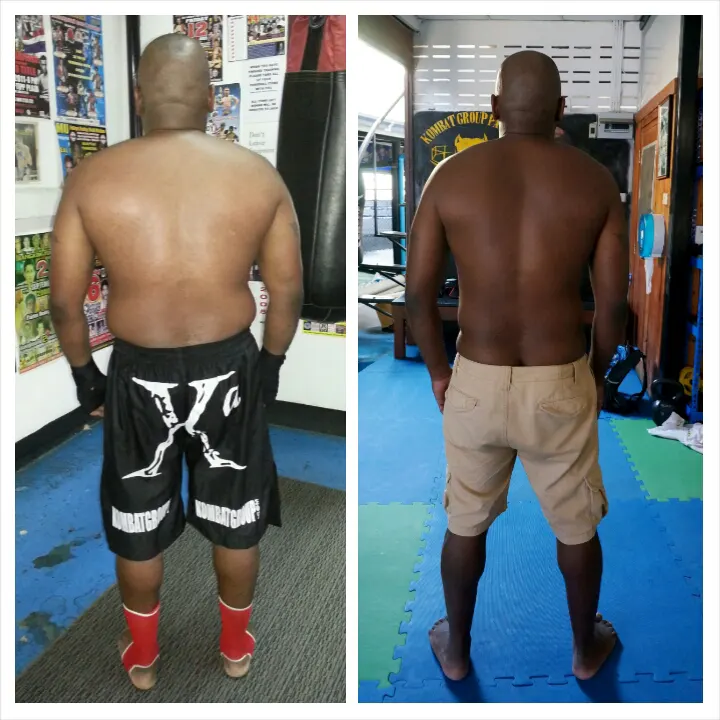 Muay Thai, Boxing and Krav Maga
If you haven't done any kind of fight training before, your first day of Muay Thai will be hard but you have to keep at it.  Christian and the coaches will all be there to help you every step of the way and all are masters of the sport.  It is a good cardio exercise and if you didn't know anything about the sport or fighting before, you will come to love it.  After about a month you will be roundhouse-kicking better than Chuck Norris and boxing like a champ!  The coaches are all pretty pleasant fellows with professional backgrounds and I was also sometimes coached by the owner, Christian Daghio, himself.  He still trains and fights professionally but will still take the time to coach you if he sees that you need a little help.
Krav Maga classes were fun and interesting!  The instructor, Gerry, is a charming, funny guy from Ireland who really knows the ins and outs of Krav and street-fighting in general. He keeps the classes interesting and active and it is also a good workout and if you did not know how to before – YOU WILL LEARN HOW TO SURVIVE IN A STREET FIGHT…and WIN!  You attend Krav on Monday, Wednesday, Friday, nights after Muay Thai and Saturday mornings from 11AM-12PM.  I suggest attending all the classes because they are not only informative but entertaining. My suggestion in order to ward off exhaustion after a long day of Muay Thai and Weight Loss training is to take a cup of coffee or something after Muay Thai on the Krav Maga nights. You will be tired but it is definitely worth it.
Must Love Dogs!
If you notice by the website, the camp mascot is the pit bull and they have live ones there serving as guard dogs/pets. Their names are Nala and Simba and you will see them wandering around as you train and they are nice and playful. I am a "dog person", love them and didn't have a problem but some of my fellow trainees did.
Summary
All in all I can say that I found that attending the camp is definitely worth the time and money.  I met a lot of great people, accomplished a life-long dream of living in Thailand, and was able to get in what I consider to be great shape, despite myself. I am still living in Pattaya, and will probably go back to Kombat Group for more training (MMA) so if you have any further questions you can contact me at duke92278@yahoo.com.
Darnell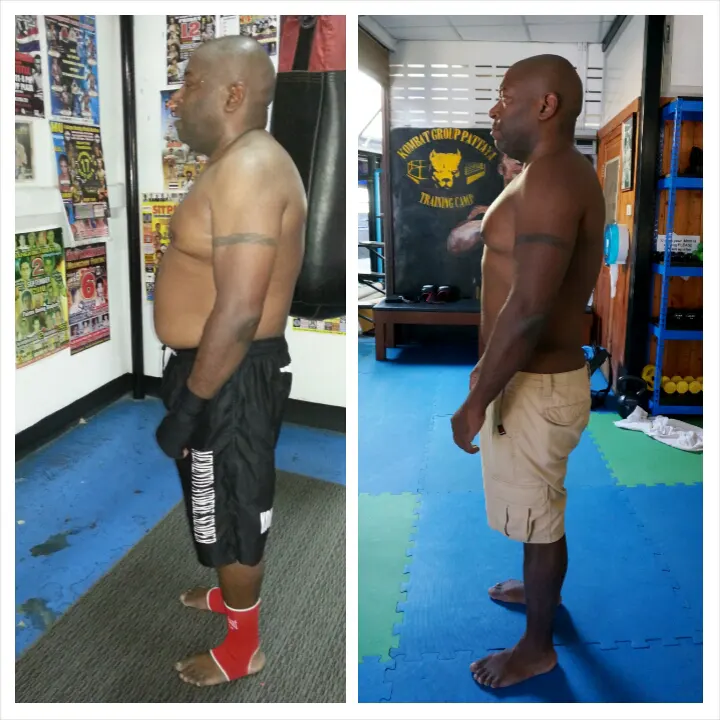 Join our Weight Loss Program by filling the form below: