I'm Adrian, I have been gaining weight ever since my national service. I'm in the car sales line that I'm often expose to irregular meals and tight schedules and at times I literally do not eat from morning till evening.
I am particularly very hungry from evening onwards and I do have the habit of eating supper. My work is very tiring and when the end of the day, I just want to have a good meal and sit on the couch to watch my favourite TV programs.
Five years ago I was contracted with Thyroid Eye Disease which causes my left eye to protrude and I was given medication to slow down my metabolism and not to do any physical contact sports whereby I am vivid fan of football and basketball. This stops my regular weekly exercise and my weight shot up rapidly. I was gaining weight at the rate of at least 10kg per year. From 82kg (during my army days), I gained till 140kg.
My weight has stopped me from wanting to move or exercise as I will be perspiring badly and gasping for air whenever I walk slightly fast or climb up the stairs. My visceral fat indicator is also very bad. I knew I do not have the determination to lose weight at home where I can have access to food at ease.
I made up my mind that I need to turn my life around and get back to a healthy lifestyle as I want to get married and enter to next phase of my life and I do not want to die young, haha.
I start searching online for good and affordable weight loss programs. I came across Kombat where on the website state clear and good information of the cost and lodging choices. From the website I get to see the rough expectation of what I am about to get.
Nonetheless I was sceptical of Kombat as there's isn't too much review on the camp online and there are not much people discussing it. I was kind of scared initially as if it is a scam. I master the courage to take the risk and signed up for it and arrange for the transport service to and from the camp from BKK airport.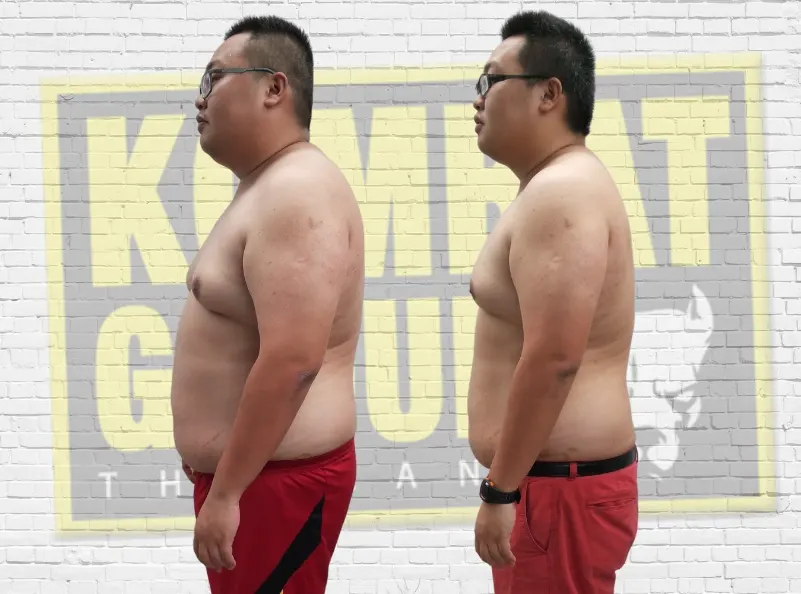 FIRST IMPRESSION
I was picked up by the driver on time at the airport and drove towards Kombat. When I arrived at the camp, I was impressed with the setup of it as it just look like a resort to me! Just that it has big training area with plentiful of training equipments! My heart took a breather and was assured that it isn't a scam group! The camp was well maintained and the staff there are very approachable and I am always greeted with a smile! The room was in good condition with the necessary furniture in it and well kept and the space is just nice for a person stay (I selected a "Single air-conditioned room").
TRAINING
I went straight to training (Muay Thai) when I arrived at the first day I struggled through the regime as my body hasn't been moving for the longest time. The instructor helped me with my hand wrap and putting on the boxing gloves and before I could start training, I was sweating badly due to the weather there. The Muay thaI training was tough but it is interesting and fun when the instructors at times will joke around and educate us on the right technique.  The weight loss program that I signed up encompass a daily training program of Muay ThaI follow by Functional Training in the morning and during the afternoon session we will have Functional training then Muay ThaI & alternate days we will have additional Krav Maga session after our evening Muay Thai. We do have a day break on Sunday.
TRAINERS
The trainers there are very friendly there, be it the Muay ThaI instructors / Western boxing instructors / Functional training instructor (Barbara) / Krav Maga instructor (Gerry). They are very approachable and willing to teach and clarify your doubts whenever you have. They will crack jokes and make the lesson fun to go through without neglecting the real techniques that you need to learn. It definitely makes the tough training gets going! Barbara is very committed in getting us focus and committed in our weight loss goal. If we ever miss or late for Functional training, we will be punished and have to do "BOO-PEEs".  You guys must be wondering what is "Boo-Pee", just the same I am when she said that till I saw a demo of the exercise. It is BURPEE! (It's a killer for almost all of us and it really terrifies us as it's like a killer exercise to all). I ever heard from a former trainee (Toby) that she would go knocked on your door to rock you out of your bed to train. She's knowledgeable and I do have problems with my knees and during some regimes she would have in mind my problem and provide me with another type of exercise to best suits my needs.
FOOD
The food served at Kombat is almost like restaurant standard. For breakfast, you get to select from choices of 3 food. Whereas lunch normally we will be served Salad and dinner will be a sumptuous western style food (Soup with Main course). Every meal is served with fresh plate of fruits to help fill my stomach.  The food are delicious and filling and you won't leave the canteen feeling hungry.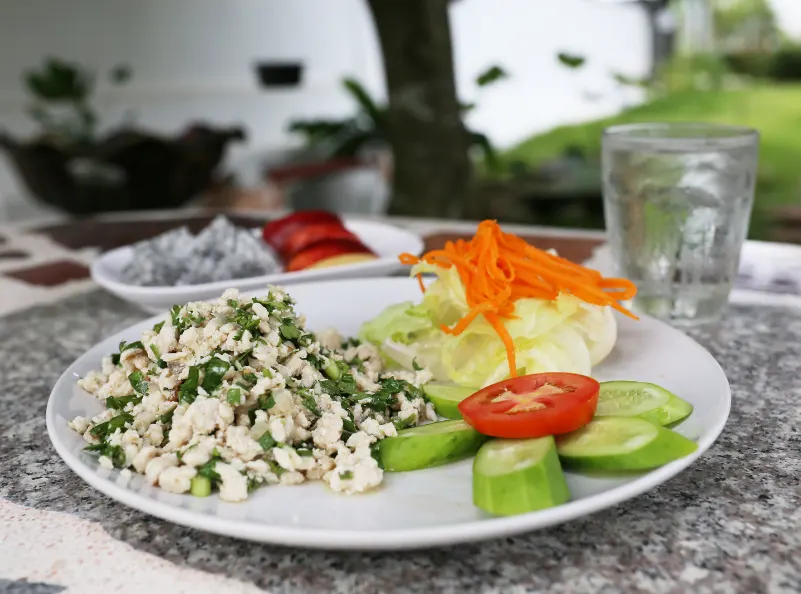 EXPERIENCE
The experience I had during the month long stay at Kombat has been excellent. It is truly a place where you can train, lose weight, build up body and make friends from around the world. I get to know people from all walks of life and from different countries. The facilities, trainers, accommodation, training programs have exceed my expectation and indeed it is a "MUST COME" recommendation to anyone who is keen in learning martial arts / weight loss / competitive athlete.  The price, service, lodging, food, experience are things you cannot find much anywhere, definitely not in my country!
There are definitely temptation out there outside the camp, this is where you have to be discipline and not waste your effort by junk-eating or staying out and miss training. You need to be focus on what you want and the reason that you came to the camp for, you need to have the mentality to throw away the "past you" and adapt to the "new you" through training, healthy eating and resisting food or drinking temptation. This will definitely help you in your weight loss journey. I do have to confess that at certain days I did lazed off and missed training but I strongly urge all to press on and make every effort to attend every training session and you will definitely be transform! Initially there will be pain all around your body but hang in there and your body will custom to the training and you will start losing big time. "PAIN IS WEAKNESS LEAVING YOUR BODY!"

In conclusion, I am a more health conscious person now after the stay at Kombat. I will avoid unhealthy food and be conscious of the food I eat and I am very happy to fit into clothes and jeans that I couldn't wear for a long time. Health is wealth and we need to continue to stay a healthy life with healthy eating and constant exercise. Start changing your life around today!
---
Enroll today in our Weight Loss Program and change your life!