Daghio, the last Highlander!!! July 2 will once again star the 5-time world champion of Muay Thai, Christian Daghio, busy this time in a battle for the world title against the Polish David Nowak.
"The preparations here in Thailand at Kombat Group makes me feel like I'm ready to climb a mountain. I have incredible coaches: Thais for Muay Thai, and Filipinos for Boxing. My staff have prepared me with intense workouts and a nutrition plan that makes me feel unbeatable! On the evening of the match, I promise a great fight and will do everything to win by a knockout! "
Christian took the lead in the heart 3 match, the most significant of his career: Christian has had over 200 different professional fights, but three stick out in his mind:
1 – When he fought in Lumpini stadium and became the first Italian ever to win at the Mecca of Muay Thai.
2 – The charity match against the boxer Somlak, who won an Olympic medal for Thailand. The match was for tsunami survivors. 14 million Thais watched from the comfort of their homes.
3 – Christian won the WTKA title in the Italian city Concordia, which had recently been devastated by an earthquake. Afterwards, Christian donated his entire purse to charity.
"I remember with sadness the day I viewed the rubble of the cities ruined by the earthquake. I've always been close to my countrymen, so it pained me to see Italian lives lost. This fight will be special for me because it will be held in Soliera, in Miami, where as a boy I started to take my first steps in this wonderful art with my teacher Andrea Romagnoli and teammates Antonio Lo Conte, Fabio Cerrato and my great friend Oberdan Salvioli. Unfortunately, he died heroically in the evening flood of Sorbara and Bomporto trying to rescue people in distress. This match will be dedicated to him."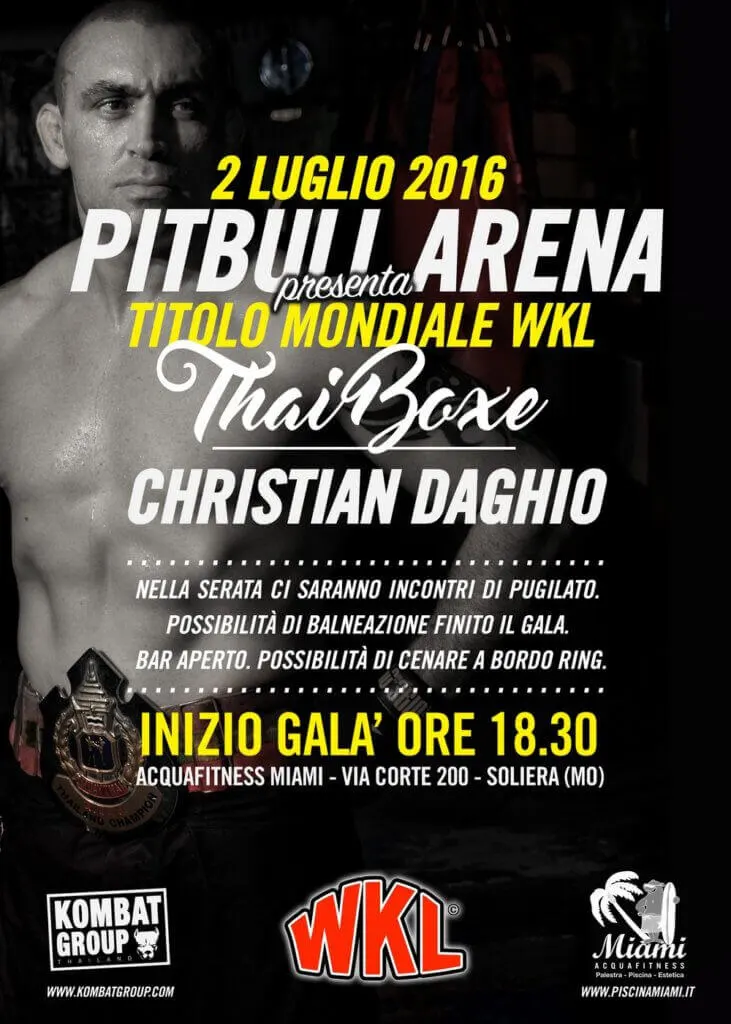 Christian, after moving to Thailand at a young age and living as a professional boxer for 10 years, has turned his passion to his lifestyle: he created a Muay Thai, Western Boxing, Martial Arts and Weight Loss camp where everyone can train. I supported and helped achieve his goals together with the entire team. It is an open camp for everyone, from amateurs to professionals, who want to lose weight or just to spend their holidays doing something that benefits both the body and mind.
The gyms that are participating in the gala are as follows:
ProFighting Team Ferrara
Space Fitness Mirandola
Gym Miami Soliera
Pantheon of Mirandola
Black Dragon Carpi.
The fighters representing the above-said camps are:
Corradi Alan, 63kg
Francesco Grillo, 73kg class N
Locoman Andrei, 84kg class
Porcireanu Lilian, 72kg class B
Riccardi Federico, 72kg class C
Capobianco Francesco, 68kg class N
Barigazzi Marcello, 78kg class N
Fraieh Mouhaned, 68kg class N
Giagnorio David, 60kg
Brunetti Matteo, 63kg
Conte Michele, 70kg