This year the WKL Muay Thai fight was very challenging and Christian did not find an easy opponent in the young and strong fighter from Poland. In an exclusive interview, he shares the training methods that led to his 7th World Muay Thai Champion win.
In his native Italy with many friends and family watching, Christian won his 7th World Champion title in Muay Thai on June 10, 2017, in Massa Finalese, a province of Modena. Surely there were a lot of expectations and maybe even additional pressure on Christian to defend his Muay Thai World title won this past year. But looking back, that fight was kind of easy compared to this one against the young, strong Arthur Zientalak.
Zientalak, a national champion from Poland, was fighting Christian for the first time and was betting on his own strength, youth and stamina against a more seasoned fighter. Christian was, as usual, leaning toward using his trademark skill – effective clinching – together with powerful knee strikes. At the end of the match, Zientalak commented to a journalist about Christian's clinch techniques: "I knew he had a strong clinch, but I never imagined it was so devastating."
Christian explains that he prepared for this match very carefully with his Thai coaches and his athletic trainers because "Being trained by a highly prepared team, I could only win." Following their training, he was prepared to fight 10 rounds, even if this match was only five. The training regimen Christian followed was all based on:
functional training and the revolutionary training methods developed by his coach Cristiano: KHIT – Kombat High-Intensity Training
boxing preparation for 12 rounds with Joel, his Filipino boxing coach
clinch sessions for at least one hour each day with his Thai trainers Pu and Tan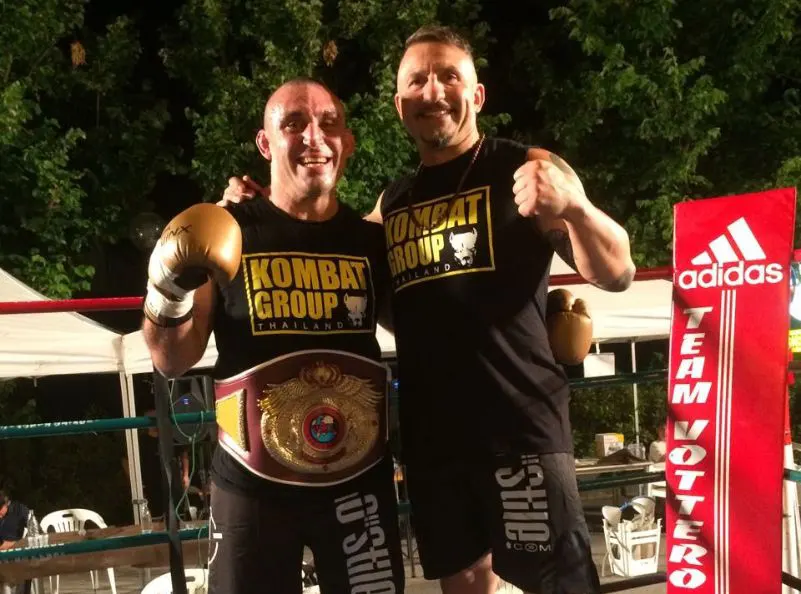 Zientalak was also very well prepared for the championship, and his good use of technique against Christian's "clinch and knee" forced Christian to switch his strategy throughout the fight. Christian ended up using the clinch not so much in the attempt to knock the fighter out but to make him tired of having to constantly defend against it. And it paid off.
Toward the end of the 3rd round, Christian's opponent was already growing visibly tired. Zientalak had indeed been exhausted by Christian's clinch techniques, which he started to use since the first round. Then in the 5th round, after a very strong left knee into Zientalak's liver, the opponent's corner threw in the towel to withdraw just when Christian had him firmly locked in a strong clinch and his knee was ready to strike; in a split second it would have gone against his opponents head.
Moments like this can be very dramatic for the audience to watch and at the same time challenging for the referee, coach or the cornerman to react to. And we may wonder, would the fighter himself had preferred going all the way without giving up, even at the risk of perhaps a very unpleasant injury resulting from the knee strike to the face? Christian thinks many fighters would choose to continue regardless. But after all, the cornerman wants what is best for his fighter and keeping a fighter safe from a powerful blow to the head in the last round of an already lost fight might sometimes be just exactly it.
So after what can only be described as a very dynamic fight, Christian won in the 5th round by a technical KO and returned home with his 7th World Champion title. When asked about his feelings about his latest win and how he mentally prepared to go into the fight Christian said: "When you win a title like that, or another big and important fight, you enjoy it. Sure. You enjoy it that one evening and maybe the next day. But the day after you must forget all about it. And you go back to the gym and to your training as if you were nothing again, and won nothing." And that seems to be his life-long philosophy: humility, hard work and continuous effort to improve and reach new goals.
And his most recent new goal? Fighting for the Intercontinental Champion title in boxing. Until then, you can find Christian and all of his team training hard at his gym near Pattaya—Kombat Group Thailand: a place where athletes of all levels from all over the world come to start learning or to improve their skills in various disciplines like Muay Thai, Boxing, Krav Maga, MMA and BJJ.
If you want the chance to train with them, fill the form below!