Muay Thai is the national sport of Thailand and we live and breathe it at Kombat Group. In fact, it's one of the biggest components of our fitness camp and people from all backgrounds and experiences come to us specifically to be trained in Muay Thai. It's a fantastic full-body workout which not just increases strength and skill, but it's a great fat burning exercise.
The most important day of the year during which we celebrate this wonderful sport is 17th March, where the entire kingdom honours and remembers Nai Khanom Tom, The Father of Muay Thai.
To give special attention to this day, Kombat Group is offering people a 25% off discount if they book a Weight Loss package before 31st March. This offer is open to men and women and the package must be used by 30th June 2019.
The Legend of Nai Khanom Tom
In the late 1700s, a group of Thais were captured by the Burmese king after an invasion of the Ayutthaya Kingdom. One day, the king organised a festival in honour of Lord Buddha, where he ordered one of the prisoners, Nai Khanom Tom, to demonstrate his Muay Boran skills against a Burmese boxer. While Nai Khanom Tom performed the Wai Kru ritual, the Burmese thought it was some sort of Thai black magic. And even when he defeated a Burmese boxing champion by KO, the king still believed it was sorcery. To find out how real Nai Khanom Tom's Muay Thai skills really were, the king ordered him to fight nine more Burmese boxers, but they were all beaten effortlessly. Impressed and taken aback, the king released the Thai prisoners, including Nai Khanom Tom, who returned home a hero.
To remember Nai Khanom Tom's achievement, the Thai Martial Arts Festival and Wai Khru Muay Thai Ceremony are staged annually on March 17, and the day has been named, "National Muay Thai Day" or "Boxing Day".
Reasons Why a Muay Thai Package is Perfect for You
1. Fat Burning
Muay Thai is one of the top ways to burn fat and gain muscle. It's a full-body workout that pushes every limb and muscle in your body to its limit, so it's no surprise that you can burn up to 1,000 calories in just 60 minutes of training. Find out more here about the fat-burning benefits of Muay Thai.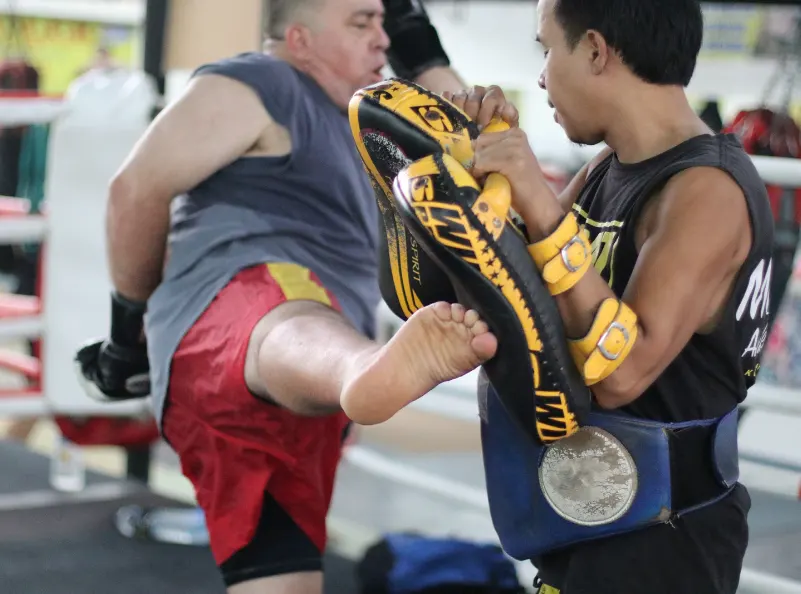 2. Mind Empowerment
Muay Thai training is tough, especially in the scorching Thai heat. But after coming to our Thai resort and improving your skills for a few weeks or maybe more, your resilience levels will be hitting the roof. You will learn how to strike, defend, and use every limb in your body to be strong physically and mentally, in the face of adversity.
3. Social Strengthening
While you embark on a journey of courage, bravery and determination in the Muay Thai training ring, you will make a lot of friends who have the same goals as you. Getting through difficult times is hard to do alone, so having people around you who are sweating just as much as you are and whose muscles are also burning with every punch and kick, will be reassuring. All of our Muay Thai sessions are done in group format, which is the best way to reach your fitness goals whether you are a beginner or advanced fighter.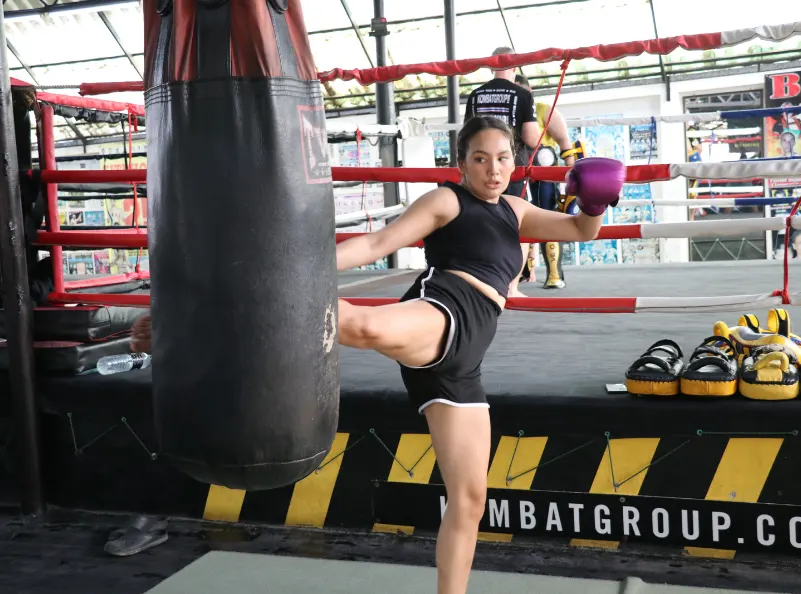 Don't wait any longer, book your Weight Loss package today and get your 25% off discount!
Nai Khanom Tom Promotion Terms and Conditions:
Book your Weight Loss package before 31st March 2019.
Bookings must be for a minimum of 7 days.
Bookings must be made before 31st March and are valid to use up until 30th June 2019.
All packages include accommodation on-site, 6 days training per week, 3 nutritious meals per day 7 days per week and 1 free massage at our on-site spa, plus a free t-shirt of our founder and a healthy slow juice from our restaurant!
The promotion is not combinable with any other running promotions and is not valid for the "fighter package".
A deposit of 10,000 baht must be paid before the 31st March and the remaining balance must be paid on arrival.