Alright, we understand. You booked a two-week trip to learn Muay Thai, lose weight and experience everything the gym offers. You've spent much money on flights, the gym and accommodation. You handled the countless details of arranging time off from work, having your friend take care of your dog, calling your bank, etc. You have 14 days in Thailand, and you're not wasting a minute of it. Good. That's a good attitude. Seriously. It's way too easy to get sidetracked in this country. So you're on the right track. But there are some things to consider in approaching your training before going 100 days one.

A few things to consider first.
Let's start with a brief look at your current state. You're jet-lagged, which has affected you in more ways than most people are aware. You're dehydrated from the travel. Your body is stiff from travel. You likely haven't eaten very well since you left your home country. Your brain is scattered. And you're now having a bit of sensory overload with the radically different culture you now find yourself in.
It generally takes about a day per time zone you cross to adjust. From the United States, that's about 12-15 days. Now that doesn't mean it will be 15 days before you can start to train and enjoy yourself. It's worth recognizing that your body and mind will adjust for a little while.
So now that we've got a better idea of where you're at, what does that mean for your training? And more specifically…
How should you approach your training in the beginning?
Unfortunately, there's no clear formula on how to approach your training as everyone is different. But as a general rule of thumb, ease into it and be consistent. Pay attention to how you're feeling and consider the increase in workload. Did you train four hours a day in your home country? If not, then you can reasonably assume going 100 four hours a day, six days a week in Thailand isn't quite sustainable. That should be the goal, but recognize that may not be your current standard. You just need to build to that. You build through consistency.
Wrecking yourself on day one may up your fitness in the short run but cost you in the long run. This is how you get injured. This is how you end up having to take a couple of days off to recover…time that you could be building upon your training.
Try to think of your camp as a marathon. Not a sprint. You start steady, stay steady and finish strong.
It's important to recognize that the benefits of your training will be cumulative. That is to say that you'll gain more from your second session than you will from your first. More from your third than from your second and so on. This is because you're building on a number of things each session: your fitness, your relationship with your trainers, their understanding of your level, your technique, etc. There is more occurring with each training session than you simply getting fitter, and it's the consistency in your training that will bring about these cumulative results.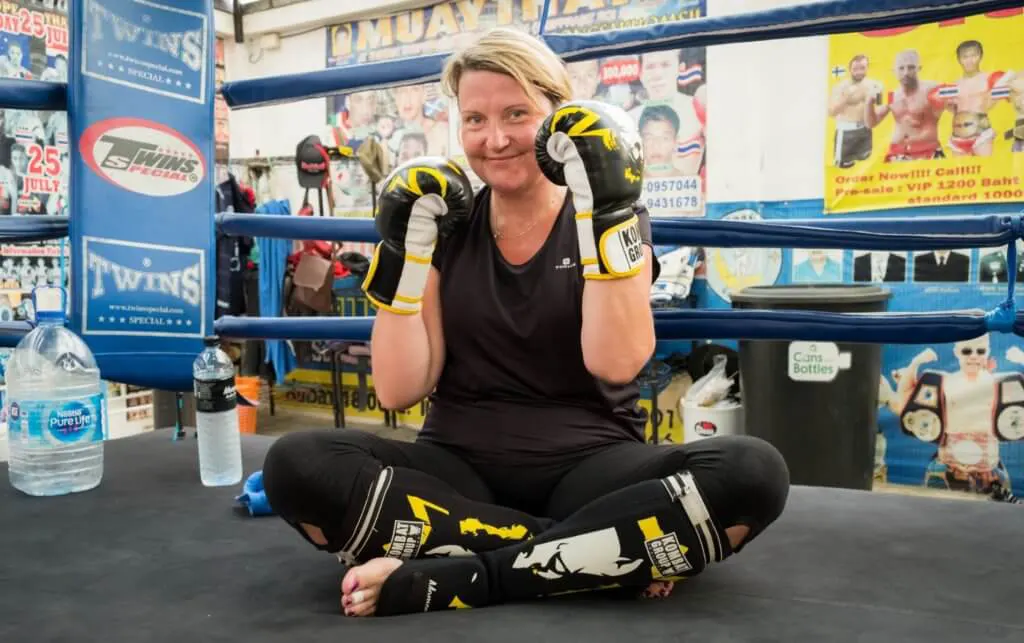 Consistency is key.
Now let's consider a more common scenario: You go 100 first few days. You're excited and the energy is there. Then day 4 you're wrecked. You're not injured and don't need time off, but you're struggling. You can push through, but at this point, you're in survival mode. Every training session is an exercise in self-torture. Beyond simply being a less enjoyable experience, it's important to consider how this affects your technique development.
Building your technique.
Boxing is an awesome way to get fit. It's fun, social and keeps your mind active. But the truth is that our thinking is often reversed. You don't box to get fit. You get fit to box. Without a certain level of fitness in place, it's near impossible to truly focus on technique and the more cerebral aspects of this sport: the intellectual understanding of proper technique and syncing this understanding with your body mechanics. So when you're just surviving, just making it through another training session, another round….you're not really learning as much as you could otherwise.
Back to the question: How should you approach your camp?
Ease into it and pay attention to your body. We all actually know more than we think through intuition and simply listening to our bodies. If we pause long enough, we can usually determine the best course of action. Be it going easy, pushing through or modifying our workout.
There's nothing wrong with going through a training session at 50%. This can be your first couple days or even periodically in your camp when you're particularly tired. A slower workout can often help too if you're really sore as it increases blood flow. Again the key is consistency. That's not to say you can't take a session off, but consider just going through the motions of a session if you're really hurting. Or try functional training in the morning, then go harder in the afternoon.
There's no honour in working yourself to the point of injury and anguish. We'll never judge you for taking care of yourself here. We encourage you to build upon your progress each day that you're here. That starts with approaching your training intelligently.