Hello, my name is Julia, and this is my testimonial for Kombat Group. I found out about the Camp in January 2016, when my friend, who is also interested in an active way of life, suggested going to a martial arts camp in Thailand.
I have been to Thailand many times before, but always to rest on a vacation. So I thought about this and then decided that I have to go and try, especially since I am a fan of martial arts. I bought the tickets between Moscow and Bangkok and got to the camp. What now? I chose Muay Thai.
Already after the first training, I realized this was going to be completely different from anything I knew. Nothing compared to the camp. This was the real deal: the weather was hot, and the training was twice a day, 6 days a week. The food here was tasty but healthy at the same time, and you are in an environment that just "oozes" passion for martial arts. In the evenings, you are in a pleasant state of fatigue and euphoria after the intense training. Long story short: I fell in love. With Muay Thai, with the camp, it was love at first sight, or rather, love at first training.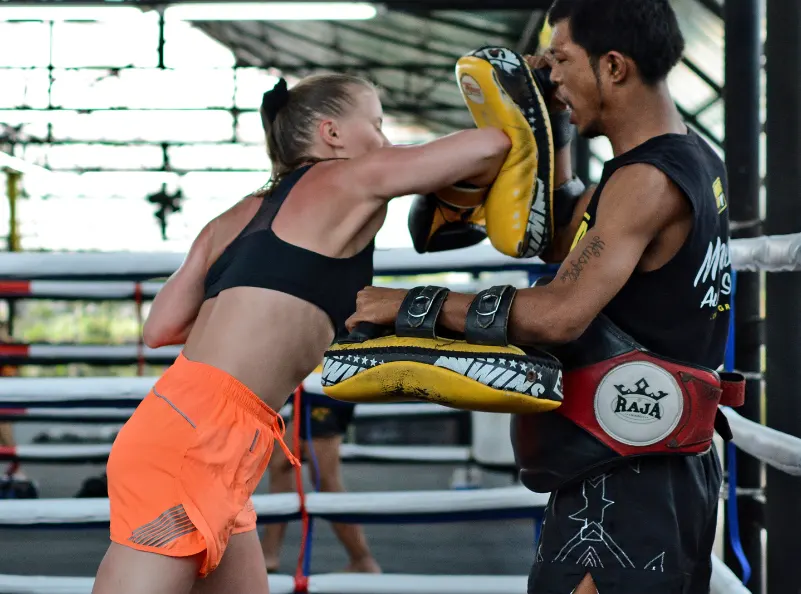 It's difficult to describe everything that happens in the camp and the atmosphere there. But one thing is clear and easy: you want to keep coming back. Kombat Group is like a family you start to miss right after you leave it. And it's not just about the new sport you chose, it's the friendly and always helpful people around you, its about the new friends from all over the world that you meet, it's about the possibility of relaxing on the beach, and about the smiling faces all around, and the abundance of positive energy surrounding you. And you get a fit and healthy body as a result, strong muscles and more energy. This is more than a camp. This is life. That's why I come back here again and again and do not plan to stop.
You guys are the greatest.
Thank you for what you are doing!
Love, Yulia.
---
If you want to have an experience similar to Yulia's, fill out the form below: