Hi, my name is Nina, and I am 25 years old. This year I spent 3 weeks at Kombat Group in Pattaya, Thailand and it was the best time of my life. I decided to visit Kombat Group in Thailand, as I got a recommendation for it but also because when I sent questions to the camp, I immediately obtained answers over email. Which impressed me and made me look forward to it since the first contact we had.
I have been doing kickboxing for 3 years in Germany and dabbled with Boxing and Muay Thai and my goals were to improve my technique and my endurance. When I arrived at Kombat Group I was very pleasantly surprised with the friendly atmosphere and how well I was received – everybody was very nice to me, from the first moment made me feel like I belong and over time I felt like I truly became a part of their "family" and also got to know new friends in Thailand over time. Everybody there was really nice, motivating and helpful. To me, this was very important as I travelled alone, but from the first day, I felt no longer alone.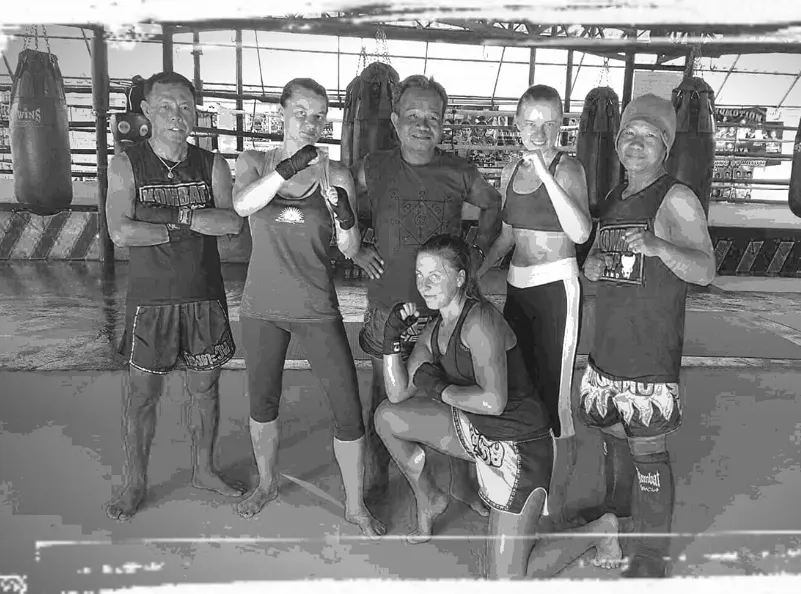 The camp is very clean and the food is a very high quality. Varied and healthy. And designed to make your body work the best it can and improve your performance in sport.
The training was perfect, the trainers are very professional and nice. They apply individual approach and work with your performance and abilities. They are trained to deal with whatever deficits you have and help you improve your overall health as well as your technique. Whether you are a beginner or an experienced fighter the training will be right for you and your level and will help you achieve your own goals. I have already trained previously in Thailand elsewhere, but nowhere I found that focus on your own goals was so intense. My technique and my physical condition very much improved and I am very satisfied with the result. I plan to come back in a year to improve even more and stay for a longer time and prepare for a fight!
Try this camp yourself. No matter what your goal is, you will achieve it. And the way this sport is taught here, it is safe for everyone, woman or man, kid or an adult.
I'm really looking forward to when I get back, and I want to thank everyone for accepting me into the camp family and helping me achieve my goals.
---
Come and try out for yourself: